Get Those Business Cards Into Your PC
At a Glance
Victory WORLDCARD Office Card Scan -Eng By ALESTRON INC (Victory-SWOCR0011)

CardScan with v. 6.0.5 software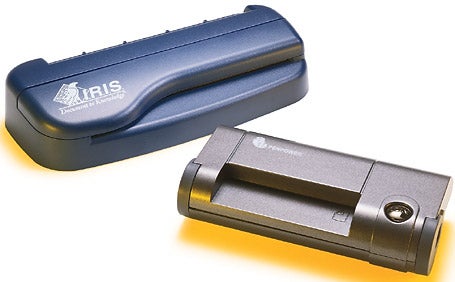 I'm an efficiency fiend, but I'm also a bit of a cheapskate--so I wanted to know whether less-expensive business card scanners could digitize a pile of cards as elegantly as the longtime market leader, Corex Technologies' CardScan. To find out, I looked at Iris's $170 Business Card Reader II device (with Cardiris 3 Software) and Alestron's $160 PenPower WorldCard Office 5 scanner, as well as at Corex Technologies' $249 CardScan Executive package (with new version 6.0.5 software).
None of these shipping card scanners met all my expectations. It's a tall order, but to really save time, I'd like a unit that recognizes all of the data correctly on its first pass and that automatically launches its software when a card is inserted. Of the three I tested, CardScan came the closest to my ideal, but even it isn't perfect.
The Competition
The WorldCard Office 5 scanner reads both sides of a double-sided card, but its software doesn't handle such duplex scanning very gracefully: It shows you the contact information on two screens, not one. Still, you can search for duplicates and merge records. The WorldCard scanner was a bit noisy, and you have to press a button to start scanning. Its software's various views of your information are not as clearly labeled as the other programs', but WorldCard's OCR gave CardScan's a run for its money on accuracy.
The card-editing view in the WorldCard's software comes with useful tools such as the option to recognize the image again, and it enables you to highlight sections of the card image and then right-click to pick the field that each should appear in. Another nifty feature is the Correction window, which permits you to click on a field and see the snippet of the card image that the scanner recognized and placed into that particular field.
Iris's Business Card Reader II is a lightweight and quite compact scanner that operates quietly. Unfortunately, however, feeding cards through it correctly is difficult, and it doesn't do duplex scans. In addition, its Cardiris 3 software doesn't open a card file automatically when you launch the program; you must open the database that you want the card to go to. On the plus side, its search functions are flexible and easy to use. And you can drag and drop text from a card image into the appropriate fields, and the software will automatically recognize it. But in my experience, if Cardiris fails to recognize the text accurately on the first attempt, it's unlikely to do any better the second time around.
The Big Gun

Corex's scanner, the biggest of the three, worked the most smoothly and quietly. Thanks to the feeder's guide, I had no problem with jammed cards, and scans started when I fed a card. The unit's updated CardScan software has a cleaner interface than WorldCard Office 5's, and it is more elegant than Cardiris. CardScan also offers more help on scanning two-sided cards.
Of the three products, CardScan Executive is the only one that provides online contact storage (on CardScan.net); it also includes a service (called AccuCard) that assists you with automatic contact up-dates. All three of the scanners link to your PC via USB 1.1, and all have export features for sending your contacts to Outlook or to Palm Desktop.
Alestron's PenPower WorldCard Office 5 package is my budget pick on the strength of its OCR accuracy. But I recommend the better-designed and more durable Corex CardScan products for office workgroups and for individuals not scared off by the price.
Iris Business Card Reader II
Flexible and versatile software, but the OCR doesn't cut it; scanner is a bit frustrating to use.
Price when reviewed: $170
Current prices (if available)
Corex Technologies CardScan Executive
Chunky scanner purrs along; new software creates clean records that are easy to edit and export.
Price when reviewed: $249
Current prices (if available)
Alestron PenPower WorldCard Office 5
Fairly accurate records, though the software is somewhat quirky and the tiny scanner is a bit noisy.
Price when reviewed: $160
Current prices (if available)
At a Glance
Victory WORLDCARD Office Card Scan -Eng By ALESTRON INC (Victory-SWOCR0011)

CardScan with v. 6.0.5 software
Shop Tech Products at Amazon