Web Stars: Best of the Web
Maps & Traffic
MapQuest
www.mapquest.com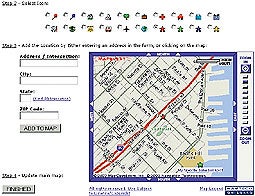 A bit more intuitive than most map sites, MapQuest remembers recently entered addresses, so you can select them from a drop-down menu. You can also copy directions over to a Palm or Pocket PC device, though you must install AvantGo (a free download) to take advantage of that service.
MSN Maps and Directions
mappoint.msn.com
Though we admire the clean design of MSN's site, it does not remember addresses used in previous searches. The Microsoft connection does have its advantages, however: Pocket PC users can copy a map to their PDA without additional software (sorry Palm users, you're out of luck).
AccuTraffic
www.accutraffic.com
Need to know whether an accident or heavy snow threatens to turn your road trip into a road trap? This handy portal links you to local and state traffic agencies' sites from around the country. The one downside isn't Accutraffic's fault: The quality of information varies dramatically from state to state.
Shop Tech Products at Amazon