Web Stars: Best of the Web
Web Conferencing
WebEx
www.webex.com
If you've used Web conferencing, chances are you've heard of WebEx. The site allows you to share an application--usually a PowerPoint presentation and a whiteboard--on the computer screens of participants across the Internet. The cost savings had better come out of the travel budget, however, because WebEx ain't free: Charges range from 45 cents per minute per person to $200 per user per month.
Centra
www.centra.com
Centra adds integrated voice-over-IP to standard meeting features at no extra cost. In addition, it integrates with Lotus Notes and Outlook, and your conference's audience needs only to download a slim browser plug-in.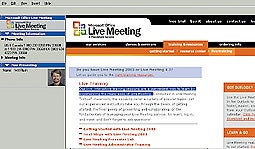 Live Meeting
www.placeware.com
After acquiring PlaceWare in 2003, Microsoft rebranded the Web conferencing service as an alternative to WebEx and tied it in with the Office application suite. The site covers the essentials: shared screens and whiteboards, and live chat. Better pricing than WebEx, integration with Office, and Microsoft's backing make Live Meeting formidable.
Shop Tech Products at Amazon