Web Stars: Best of the Web
Driver & Patch Sites
Windows Update
windowsupdate.microsoft.com
Let's face it: Windows is full of bugs, and it's no fun having to keep up with the myriad Windows patches that sprout like briars. If you must perpetually patch your OS, Windows Update makes the experience as painless as possible. The site scans your local copy of Windows (without divulging your computer's contents) to tell you what patches you need; then, at your command, it downloads and installs them. A companion site for Microsoft Office--Microsoft Office Update--does the same thing for the ubiquitous application suite.
Version Tracker
www.versiontracker.com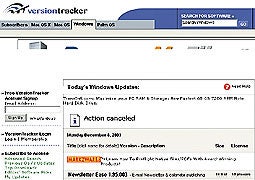 Downloading patches is a necessary evil for just about anyone who uses a PC. VersionTracker assembles announcements and downloads of patches for thousands of applications. The focus here is on what's new, particularly in shareware, rather than just on what will fix your program's ills. The site covers apps for the Mac OS and Palm as well.
The Driver Guide
www.driverguide.com
Whether you're looking for a hard-to-find driver for a discontinued product or just want to explore the strangely compelling back alleys of unsigned, performance-enhancing driver updates, this is the place to go. A free database of driver files, company information, and links is fed by a community of enthusiastic Driver Guide members. The site's sensible--though slightly ramshackle--approach gives it the feel of a volunteer project, but the meat and potatoes are there.
Shop Tech Products at Amazon