Web Stars: Best of the Web
Auction Sites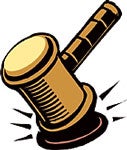 EBay
www.ebay.com
EBay is by far the largest auction site out there, and its search engine remains a strength--which is fortunate since the sheer volume of results can overwhelm just about anyone. High volume and reputable sellers make an auction site great, and EBay has them both.
Auction Sniper
www.auctionsniper.com
If you are frustrated about losing too many online auctions, Auction Sniper (which monitors bidding, then tops the high bid in the final seconds) can level the playing field and help you win that coveted laptop (or signed Harry Potter book). Your first three auctions are free; after that, you pay Auction Sniper a fee ranging from 25 cents to $5 for each auction you win, based on the final price.
Bidz.com
www.bidz.com
Trying to squeeze into the world of Internet auction houses is only slightly easier than making your own operating system and taking on Microsoft, but Bidz gamely gives it a shot. The site's promise of "satisfaction guaranteed" simply means that you have some protection from shady sellers--but you won't be able to squirm off the hook just because you suffer a case of buyer's remorse.
Shop Tech Products at Amazon