Web Stars: Best of the Web
Blog Sites & Aggregator Tools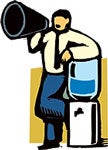 Feedster
www.feedster.com
If you'd like to sample what the bloggers are writing about, step up to the Feedster trough. With a simplicity that's visually evocative of Google, Feedster allows you to search blog postings for a phrase, then see who's writing about that topic (and of course, what they have to say). Results vary dramatically from hour to hour, but a Feedster search is the fastest route to instant zeitgeist. Feedster's nearest competitor, Daypop.com, searches thousands of Weblogs, too, and it serves up user-friendly lists of the top news and blogs being linked to, or of the most popular words appearing in the blogosphere. But Daypop's performance problems--it gets unbearably slow at times--boost Feedster's lo-fi appeal. Coolest Feedster feature: If you're a true news junkie using an RSS aggregator (see SharpReader below), you can turn any Feedster search into a feed itself, which means that you get the latest results automagically.
Memigo
www.memigo.com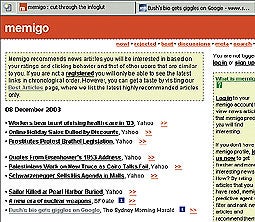 Memigo ranks the quality of individual news items according to the clicks and recommendations of registered Memigo users (as well as to your own clicks as you surf through the site). A fascinating and constantly changing compilation of news stories from an eclectic range of sites and feeds around the Web, the site delivers its content enjoyably fast. Memigo holds a lot of promise as a news aggregation service, but it's still an experiment, so expect a few rough edges. It aims to "cut through the infoglut" by delivering high-quality content through group consensus, but a few out-of-place stories occasionally float into positions that give them top billing.
SharpReader
www.sharpreader.net
Among the many small free applications summarizing the latest news or blog postings from any site that offers news feeds (abbreviated links and descriptions of new content on a given site), SharpReader earns our nod because it's simple to install and straightforward to operate (it integrates into Internet Explorer). You can pop in the URL of a new RSS feed (the home pages of many sites already have the telltale orange XML icon that denotes a feed), view the results, and subscribe in one click. If you don't like using a tool that's been fused into Internet Explorer, take a look at FeedDemon this stand-alone equivalent program is still in beta testing, but it has a lot going for it.
Shop Tech Products at Amazon