Web Stars: Best of the Web
Tech Support & Help Sites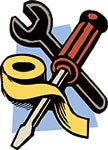 AVS Forum
www.avsforum.com
A support site for anything related to home theater or consumer electronics, AVS Forum has exactly what a tech community needs most: smart, loyal users who offer outstanding advice to novices and enthusiasts alike. Before you call a repairperson for any home theater device, check with the folks here. We won't buy a product without seeing what the AVS Forum users have to say about it. The site receives more than 3000 posts a day on topics ranging from hacking your TiVo to optimizing the picture on your new plasma TV.
Annoyances.org
www.annoyances.org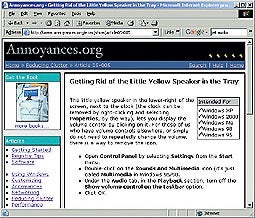 If you are fed up with pesky Windows behavior and you're not going to take it anymore, turn to the online component of O'Reilly's Annoyances series of books. With good humor and clever tips, the site explains how to eliminate (or at least deal with) the frustrating, the repetitive, and the unnecessary in your computer's operating system and applications. A discussion forum lets users of specific Windows versions ask other users, as well as the authors of the Annoyances books and O'Reilly editors, how to fix new problems as they arise.
Hoaxbusters
hoaxbusters.ciac.org
Most hoax e-mail is blatantly phony (got any from the son of a retired general in Zimbabwe lately?), but some messages are harder to spot. HoaxBusters' running tally of dire warnings (and other late-breaking, full-of-hot-air bulletins) also makes a great reply to correspondents who forward e-mail you can't believe they took seriously: Respond with a link to this site.
Tech Support Guy
www.helponthe.net
Michael J. Cermak, Jr., may have the most thankless job on the Internet. As self-appointed Tech Support Guy, he helps answer the thousands of computer-related questions in his Web archive. Cermak and a legion of volunteers help countless flummoxed PC users through the thorniest computer woes. We're just glad he's on the job.
Shop Tech Products at Amazon