Web Stars: Best of the Web
Travel Services
Expedia
www.expedia.com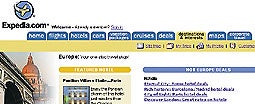 Far easier to navigate than most airport security lines, Expedia is the best travel-booking site on the Web. Besides being easy to use, Expedia simplifies building a package combining airfare, hotel, and car rentals. The site offers a terrific range of discount hotels, with Web-shopper-friendly cancellation policies; Priceline and Hotwire don't let you cancel at all. Even though Expedia charges a $5 booking fee for plane tickets, you're still ahead of the game.
Orbitz
www.orbitz.com
Finding flights is what Orbitz does best. When you look for a flight, Orbitz lists the most likely candidates in an easy-to-read table that's organized by carrier. If you check a box on the search page, Orbitz will point you to flights into or out of alternative airports within a 70-mile radius of your starting point or destination. Overall, we found the site slightly sluggish compared to Expedia and the design not quite as welcoming.
Travelocity
www.travelocity.com
Travelocity's Last Minute Deals tab at the top of its crowded home page is the first thing you should click when you visit this comprehensive site. You can almost always find a combination package of airfare and hotel or airfare and car rental that's as good as, if not better than, the price of each purchased separately. In addition, the Guides & Advice tab, packed with information from travel guide publisher Frommer's, provides good general guidance about traveling to cities throughout the world.
TripAdvisor
www.tripadvisor.com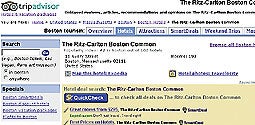 It's not designed for booking a hotel room, but we find TripAdvisor indispensable for researching hotels, especially when we don't have a guidebook handy. The site offers links to reviews from myriad publications, including the New York Times, Fodors, and Frommer's, as well as posts by TripAdvisor users. You'll also find links to major travel-booking sites, though occasionally the links won't return any results--especially if you're looking at smaller inns. The only risk with TripAdvisor: The profusion of information can induce planning paralysis.
Shop Tech Products at Amazon