I thought I knew it all. Or all about Windows, at least. But it seems like every time I turn around I find a new and better way to move a file, fix a disk error, patch a security leak, or browse the Web. Whether you need to record a CD, encrypt a folder, or find a wireless network, there are still plenty of new tricks to learn, even if you're an experienced user. Here are 76 fast and easy ways to make Windows work better than ever.
File Finesse

1. (ALL) Bring back the tree: You open a folder, but there's no directory tree on the left. What to do? Just click the Folders icon on the Standard toolbar (in 2000, Me, and XP), or choose View, Explorer Bar, Folders (in any version).
2. (ALL) Customize Details, part 1: To change the order of the Name, Size, Type, Date Modified, and other columns in the default Details view (click View, Details), just put your pointer over a column head and drag right or left.
3. (2K, ME, XP) Customize Details, part 2: Why settle for the default Details columns? Right-click any heading and choose an item with no check mark to add that information, or uncheck to remove it. Choose More on the right-click menu (or View, Choose Columns or View, Choose Details on the main menu) to make these changes via a dialog box.
4. (ALL) Get the big picture: Whenever you need to see more of a folder or Internet Explorer browser window, simply press F11 to view the window in full-screen mode. Then press F11 again to revert to normal view. Bonus tip: If you're using Windows 2000, Me, or XP, you can add a button to toggle between modes by right-clicking the Standard toolbar and choosing Customize. Click Full Screen under 'Available toolbar buttons', and then choose Add and Close.
5. (ALL) Autohide the folder tree: In full-screen mode, you can make the folder tree--or any option set via View, Explorer Bar--disappear to give you an even broader view, and yet reappear when you move the mouse to the left edge of the window. Click the pushpin button at the top of the left pane to unpin the current Explorer Bar, and then move your pointer to the right pane (see FIGURE 1

FIGURE 1: TOGGLE THE MAGICAL disappearing folder tree with this pushpin button below the Standard toolbar.

).
6. (ALL) Bring hidden files into the open: By default, Windows hides many system files. This can make correcting problems difficult. To see all files, choose Tools, Folder Options, View in any Explorer or folder window. In the 'Advanced settings' list, select Show hidden files and folders (Show all files in Windows 98). In versions other than 98, uncheck Hide protected operating system files (Recommended). Click Yes and OK.
7. (2K, ME, XP) Broaden your folder view: If your folders have a margin on the left with links to resources or tasks you never use, give more screen real estate to your files and folders by choosing Tools, Folder Options, Use Windows Classic Folders, OK. This will remove the Explorer Bar and its "common tasks" shortcuts.
8. (XP) Squeeze in more thumbnails: You can fit more icons in the right pane of Explorer's Thumbnails view (View, Thumbnails) by hiding the name listed under each. Click a different folder in the tree pane to change the view, and then hold down Shift as you click the folder with thumbnails to view it with no names.
9. (XP) Take folders to task: If you like Explorer's task pane but want the various tasks displayed there to match the folder's contents, right-click the control icon in the window's upper-left corner, choose Properties, Customize, and pick the most appropriate description under 'Use this folder type as a template.'
10. (ALL) Get a new disk view: Wondering how full your disk is getting, or how to clean it up? Right-click any drive icon in Explorer (under My Computer) and choose Properties. You'll see a pie-chart representation of your disk use, a button that launches the Disk Cleanup utility, and a Tools tab that lists other maintenance utilities.
11. (XP) Squeeze your disk, part 1: If your disk is formatted with NTFS, you can compress your files and folders to conserve space. Select the files or folders you want to smoosh, right-click the selection, and choose Properties. On the General tab, click Advanced. Check Compress contents to save disk space and click OK. You may be asked to specify which files and folders to include.
CD Tip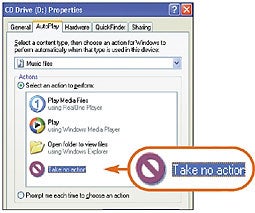 12. (XP) Plug AutoPlay: When you put a CD in the drive, Windows gives you a choice of actions. You can answer once for each type of content (music, say), but if you want AutoPlay off, right-click the CD drive in Explorer and choose Properties. Under AutoPlay, select a content type from the list at the top and pick your preferred settings below. To turn AutoPlay off for a specific type, click Select an action to perform, Take no action, and click OK.
13. (XP) Squeeze your disk, part 2: To compress an entire NTFS hard-disk partition, right-click the disk's icon in Explorer and choose Properties. Check Compress drive to save disk space and click OK or Apply. At the confirmation prompt, select the option to compress all subfolders and files (not just those in the root), and click OK.
14. (ME, XP) Squeeze your disk, part 3: You can squish your files automatically by moving them to a compressed folder. To create one, right-click in any folder window or on the desktop and choose New, Compressed Folder (in Me) or New, Compressed (zipped) Folder (in XP). If you don't see this command, make sure you've installed this feature (see tip 47).
15. (2K, XP) Take a letter: If you want to reassign the letters of your disk volumes, log in as an administrator, choose Start, Run, type diskmgmt.msc, and press Enter. Right-click a disk in the bottom of the window and choose Change Drive Letter and Path. Click Edit or Change, select an unused letter from the drop-down list, click OK, answer any prompts, and click OK again.