When Paul Theisen, president of Unlocked Potential, a hiring consulting company in Livonia, Michigan, bought Symantec's Norton AntiVirus 2003 at his local OfficeMax, he thought he was getting the software for free--it cost $70 with $70 in rebates. So he filled out the forms, clipped the UPC labels, and mailed his claims.
After three weeks, a $30 check arrived for one of the two rebates. Two and a half months later, he received a notice indicating he was ineligible for the second rebate of $40 because he was missing some paperwork. "But the note didn't specify exactly what was missing," says Theisen.
After making many calls and faxing a copy of the UPC label and the receipt, he was denied again. This time, the rebate fulfillment house for Symantec told him the promotion was over. Theisen felt he was at a dead end. "Talking to the reps is like talking to parrots," he fumes. "No matter what I said, they kept repeating that I didn't send the correct documents." (After PC World contacted Symantec, the company eventually sent him the $40 check.)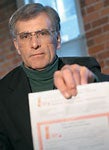 Theisen's experience is only one example of what can go wrong. Another snag may involve a lack of contact information for disputing a rejection. And some rebate coupons are written in such tiny type that you might need a magnifying glass.
We investigated what goes on behind the scenes, talking to shoppers who collected rebates and to others who were left empty-handed. We grilled manufacturers, retailers, and fulfillment houses (which administer rebates) about the pitfalls in the process; companies sometimes point their fingers at each other, leaving buyers in a runaround frenzy. We also asked government agencies what can be done to improve the system.
In the end, we discovered that there is no magic formula. If you've decided to go the rebate route, and you need a bit of help, we recommend a few stores that make the filing process a little easier, and we also give some advice on how you can improve your chances the next time you play the rebate game.