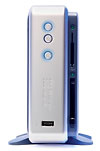 So many cool and quick USB 2.0 and FireWire gadgets--but so little space on your desk. Western Digital is cleaning up some of the clutter with its dual-option Media Center, announced and demonstrated at the Consumer Electronics Show in Las Vegas last week, and expected to be available by the end of January.
This sleek little unit (8.6 inches by 1.7 inches by 6.8 inches) combines a 7200-rpm hard drive with a capacity of up to 250GB and an 8-in-1 memory card reader. Supported media types include CompactFlash Type I and II, Microdrive, Memory Stick, Memory Stick Pro, MultimediaCard, SD card, and SmartMedia, according to Western Digital representatives.
At introduction, the Media Center will appear in two versions, a $300 160GB model and a $400 250GB model. Western Digital plans to ship 120GB and 200GB versions later. The company will also market the hard drive in a separate package without the media reader.
Basic Operation
The Media Center appeared very easy to operate, judging from a demonstration at the trade show.
The drive connects to your PC via either its FireWire or USB 2.0 interface (both are included). The unit integrates a USB 2.0 hub with a front-mounted port and also includes two FireWire ports.
You simply insert the media from your MP3 player, digital camera, or other device and press the Manual Backup button to write the data onto the hard drive.
You can install the program and easily schedule recurring backups using the setup wizard from the unit's adapted Dantz Retrospect Express backup software. You press the Automatic Backup button just once, and the drive's blue LED lights up to alert you that automatic backups are scheduled. Or, if you prefer, you can press Manual Backup to launch an immediate operation. The unit also includes a button on the front that allows a safe shutdown.
To further reduce the Media Center's desktop space requirements, you can use it in a vertical as well as a horizontal configuration.
See PC World's ongoing CES coverage.