At a Glance
Chaintech 9PJL2

Gigabyte GA-K8NNXP Motherboard (GigaByte-GAK8NNXP)

Intel D875PBZ Motherboard (Intel-BOXD875PBZLK)

Leadtek Winfast K8NW

ABIT VI7 Pentium 4 Motherboard (ABIT-VI7)

Asus A7V600 Motherboard (Asus-A7V600)

MSI 655 Max-FISR Pentium 4 (Microstar/MSI-MS6730010)

Soyo SY-P4I865PE Plus Dragon 2 Pentium 4 Motherboard (Soyo-SFP4I865PE)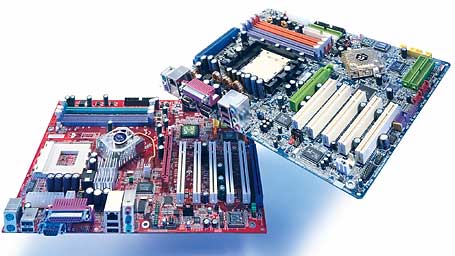 If the idea of building your own PC intrigues you, and you've even scoped out the aisle full of snazzy components at your local computer shop, deconstructing all the specs and picking the right board can seem fraught with peril. But it's really not that tough. We evaluated eight boards with a range of features and prices, and we'll show you what to look for when you're comparing products in the store.
First, some fundamental decisions will narrow your choices: You probably know how fast you want your CPU to be and how much you want to spend on it; you probably also have a good idea of how much RAM you need. Because each motherboard works only with a specific set of processors, this is your first cut. All the boards we tested support a range of either AMD or Intel processors. (Please see the chart at Motherboards: Key to an Ideal PC for more information.) But because we couldn't test every configuration, we picked a few representative ones, broken down into two groups. We chose four loaded boards and tested them with top-of-the-line CPUs and a gigabyte of RAM; we also picked four less-expensive boards with fewer features, and tested them with good second-tier processors and 512MB of RAM.
At the high end, we paired Gigabyte's GA-K8NNXP 940 and Leadtek's WinFast K8NW with AMD's $800, 2.2-GHz 64-bit Athlon 64 FX-51. We tested Intel's Desktop Board D875PBZ and Chaintech's 9PJL2 motherboards with Intel's fastest consumer CPU, the $1000 3.2-GHz Pentium 4 Extreme Edition. In our economy group, we set a cap of $300 for both board and processor. We paired the MSI 655 MAX-FISR and Soyo SY-P4i865PE Plus Dragon 2 with Intel's $200 2.8-GHz Pentium 4 CPU; we ran the Asus A7V600 and Abit VI7 motherboards with AMD's $150 2.17-GHz Athlon XP 2700+. All of the models we tested fit into a full-size ATX tower. Mini-ATX boards that fit into smaller cases are available, but in this review we focused on full-size models.
Increase Your Memory
From our small sample size, we can't draw comparisons on which chip set is fastest; but since the boards within each category delivered similar results in our tests, we can say that overall system performance depends less on your motherboard and more on CPU and memory.
The motherboard and processor determine the speed and type of memory you must use. But there are different grades of RAM, and they can influence performance and reliability, as well. We chose to use 1024MB of Crucial DDR 400 memory on our high-performance boards, and 512MB of Crucial DDR 400 memory on the budget ones. The Athlon 64 FX-51 CPU required registered DDR memory, which contains a register chip that delays memory information for one clock cycle to help process large amounts of data. Registered memory costs about $450 for 1GB--making it more expensive than a comparable amount of DDR SDRAM--and it's also harder to find. Kingston supplied the registered RAM we used.
We acquired our processors, memory, and motherboards separately, but buying motherboard, CPU, and memory preinstalled eliminates the trauma of installing a processor for the first time and potentially turning a $200 slab of silicon into a useless piece of junk. This typically costs more than stand-alone components, but getting one may be worthwhile if you're worried about frying your CPU.
We selected the Asus A7V600 and the Leadtek WinFast K8NW as our Editor's Picks, based on our evaluation of their features, ease of installation, and documentation. We had no trouble installing Leadtek's board, and its extra features--four Serial ATA connectors, 64-bit hard-drive encryption, and dual LAN--gave it an edge. Although Leadtek's printed documentation doesn't include information about installing the processor, pictures and walk-throughs for the procedure are available from the company's site. Asus's board, meanwhile, offers a nice helping of extras like an integrated Wi-Fi slot and gigabit ethernet support. Its smooth installation and comprehensive documentation were additional factors in our awarding the board an Editor's Pick. The model we tested lacks FireWire ports, but Asus sells a board with that option.
What's in a Chip Set?
After you've settled on the CPU and amount of RAM, your next decision concerns what features you want. A motherboard's chip set provides support for integrated I/O options such as USB 2.0, FireWire, Serial ATA, and 8X AGP.
Developers are incorporating still more functions into upcoming chip sets. For instance, NVidia's new NForce3 250--which should be available by the time you read this--incorporates a firewall. Vendors are also working on support for Azalia, a new audio standard intended to supplant AC'97, and for PCI Express, a new technology that will eventually replace today's PCI (and AGP) parallel buses with a fast serial connection capable of a sustained transfer rate of up to 200 gigabytes per second rather than PCI's 133 GBps.
If you're a gamer, an 8X AGP slot to accommodate the latest graphics cards will be on your wish list. We tested all eight of our boards with ATI's Radeon 9800 Pro card using the 8X AGP interface. If you're planning to use your computer primarily for office applications and older games, integrated graphics chips will do the trick. Our previous tests of PCs with the Intel 865G and ATI Radeon 9100 IGP integrated chip sets showed that such chips hit frame rates half as high as those from even budget-level graphics cards.
On the horizon, however, are chip sets with more-powerful graphics-processing capabilities. Via's K8M800 chip set, which employs integrated graphics and supports AMD's 64-bit processor, has a low-power design that requires fewer fans to cool it.
With one exception, all of the motherboards we reviewed include on-board sound, which is sufficient for most computer tasks. For watching DVDs and listening to music, though, look for a board with a six-channel codec. The audio processing on the boards we tested ranged from Leadtek's and Gigabyte's Realtek ALC658 Audio AC'97 six-channel codec to no sound support at all (in the case of Intel's board). Note that an add-in sound card gives better-quality audio.
At a Glance
Chaintech 9PJL2

Gigabyte GA-K8NNXP Motherboard (GigaByte-GAK8NNXP)

Intel D875PBZ Motherboard (Intel-BOXD875PBZLK)

Leadtek Winfast K8NW

ABIT VI7 Pentium 4 Motherboard (ABIT-VI7)

Asus A7V600 Motherboard (Asus-A7V600)

MSI 655 Max-FISR Pentium 4 (Microstar/MSI-MS6730010)

Soyo SY-P4I865PE Plus Dragon 2 Pentium 4 Motherboard (Soyo-SFP4I865PE)
Shop Tech Products at Amazon