Peer around the back of a typical home computer installation (if you dare), and you're likely to see a rat's nest of hanging cables that are twisted around one another. In "Eight Tips to Tame Cables," we showed you how to go from messy and confused to neat and organized.
But personal computers aren't the only home electronic components wired together. What used to be a couple of stereo components, a pair of speakers, and a small TV in the living room is gradually morphing into a home theater and media center with a big-screen TV, surround speakers, multiple electronic boxes, and (often) a PC. A messy cable installation might be okay behind your computer in the corner of your family room, but chances are that video or speaker cables draped around your living space won't pass muster with family and visitors.
You can snake the cables through your walls and install wall jacks--or hire a professional to do it--but that can get complicated and expensive. Fortunately, there are some quick, low-cost ways to organize and hide your media-center wiring.
1. Cut back cable lengths. Nothing adds to the clutter more than unnecessarily long cables. Find the correct length to purchase by setting up your components and speakers in their final locations. Measure carefully, adding a bit of slack to ensure that the cables aren't taut when connected.
You can save money on speaker or video cable by buying it in bulk. Cut the correct length of cable, and then trim the ends with a wire stripper. In most cases, you'll also need to purchase connectors and attach them to each end using a crimping tool.


2. Hide long runs of cable. If the room where you'll be installing audio and video cable has wall-to-wall carpeting and standard baseboards, there's usually enough room between baseboard and carpet to tuck cables out of sight. Work carefully, using your fingers, a paint stirring stick, a ruler, or a large wooden spoon to push the cable under the baseboard. Be careful not to damage the cable or mar the baseboard as you do so.
If the baseboard is flush with the floor, consider buying flat speaker cable, which you can hide beneath an area rug. You can also attach wire channels, or raceways, to your baseboard.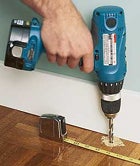 3. Go below. If your home theater space has a basement or an accessible crawl space beneath it, the easiest way to hide cables is to drill a hole in the floor (hidden behind speakers, components, or furniture) and run the cables under the floor. One caveat: Be careful where you drill. Scope out the space first to avoid pipes and electrical cables. If in doubt, get professional help.

4. Hide in plain sight. In some settings, none of the preceding techniques will work. In that case, consider tucking cables into spiral wraps, split tubing (technically called wire loom), or expandable braided sleeving. They'll be in full view, but their high-tech look makes them less objectionable.

5. Label and dress cables. Before you hook them up, consider tagging your cables by using either a label maker that prints on plastic tape or a set of cable ties with built-in labels. With long cables, label both ends to ease future changes and troubleshooting. Then use inexpensive cable ties and short runs of spiral wrap or split tubing to dress the cables behind your components.
The Top Down
Benefits: Organize and hide cables.
Cost: Variable, from nothing to $100-plus
Expertise level: Beginner to intermediate
Time required: 30 minutes to a few hours
Tools required: Screwdrivers, cutter pliers, wire stripper, crimping tool
Vendors: Belkin (www.belkin.com), Best Buy (www.bestbuy.com), CableOrganizer.com (www.cableorganizer.com), Circuit City (www.circuitcity.com), Home Depot (www.homedepot.com), Lowe's (www.lowes.com), RadioShack (www.radioshack.com)