Burning Questions: Is Labeling Software Worth the Hassle?
I burn CDs and DVDs all the time, but I'm rarely motivated to use software and labeling kits to generate labels. Depending upon the task at hand, using such software can be frustrating at best. The programs never seem to do what I want them to.
For example, how difficult would it be for a burning package to fully integrate the labeling process with the copying process, so that key information about the data you just transferred to disc--be it track titles, video chapter points, or file and folder names--automatically prints out on case inserts? Only Ahead's Nero 6 Ultra Edition and Pinnacle Instant CD/DVD do this to any extent. Both do it for audio CDs; Ahead can also do it for some data discs. Pinnacle's Expression video-burning app can do it for video discs.
As for third-party labeling packages, I've been a doubting Thomas. After all, labels are a pain to print and tough to apply to discs. Sometimes you need to waste a few sheets to calibrate your printer's alignment. The ones I've tried have invariably come out slightly cockeyed, with the printed text not quite aligned with the label itself. Applying the label is another headache altogether--even with the advent of applicators that purport to help. It takes a very steady hand to get it just right.
This isn't a purely esthetic issue, either. If the label isn't centered precisely, and applied smoothly without wrinkles, experts say the disc's balance can be thrown off kilter in a high-speed drive, causing the disc to shatter. And some readers have mentioned issues with disc rot after using adhesive labels (look for more on this in a future column).
Still, I'm regularly bombarded with announcements from vendors touting the latest versions of their disc-labeling software. So I decided to give a few of these kits a whirl, to see if the state of labeling has improved much with the passage of time. I looked at Meritline's EZ Label Xpress 2.0, Verbatim's DVD/CD Label Kit, Maxell's CreateIt CD Label Kit, and LabelWhiz' 3-in-1 Label Kit, all of which included software for creating labels and inserts.
Meritline's DVD Entourage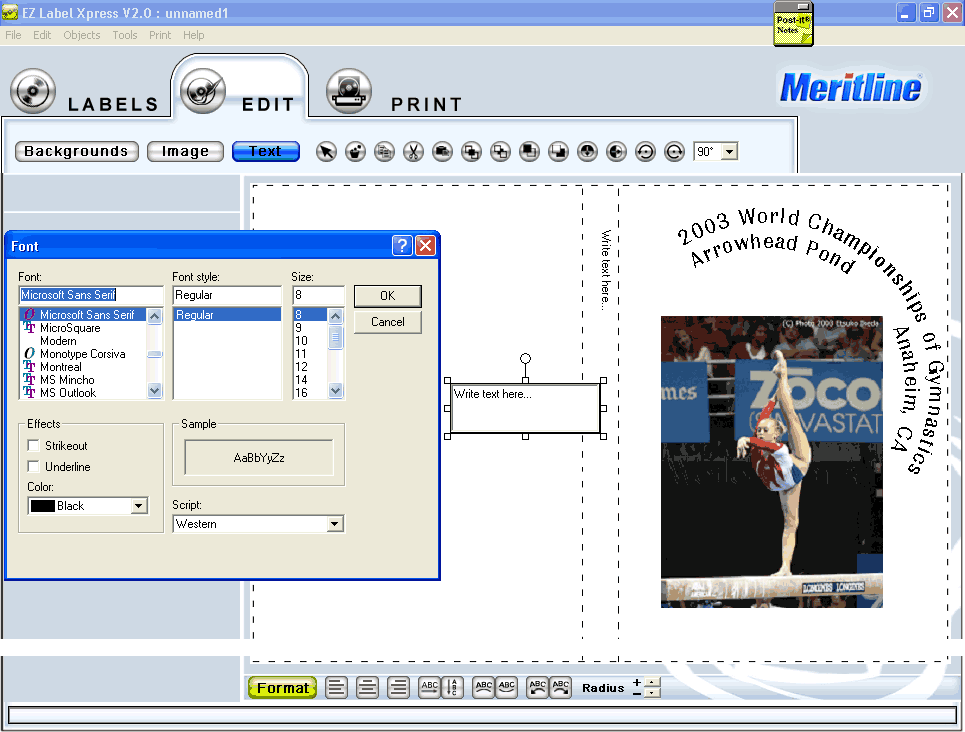 Private labeling has hit the disc-labeling market at the online retailer Meritline, which offers an attractive self-branded labeling kit for CDs and DVDs.
What I liked most about Meritline's $20 DVD Labeling Kit is that it bundles the company's EZ Label Xpress 2.0 software with 10 full-size DVD jewel cases (like the ones that Hollywood features come in), 10 case inserts, and 20 face labels for the surface of DVDs or CDs. The uncluttered software has a very clean interface, one that makes it a pleasure to handle text (rotating text and images, for example), and makes it simple to add images and backgrounds.
It's the only package of the four I looked at that I'd consider returning to--in spite of its many limitations. For one, the software only handles the label configurations on Meritline's own sheets of stick-on labels, which makes it difficult to use whatever label stock you may find at the local office store (there are many variances in the way labels are laid out on pages). For another, the choices for patterned backgrounds are limited. Other oversights: There's no way to add bulleted lists, and no easy way to align different elements.
But I like how easy it is to create a label, with minimal fuss and muss beyond manually entering the data. The software is especially friendly for creating the labels I so desperately need to make my growing collection of movie and television DVDs look right at home on my shelf with all of those store-bought movie DVDs.
Media-Vendor Labeling Kits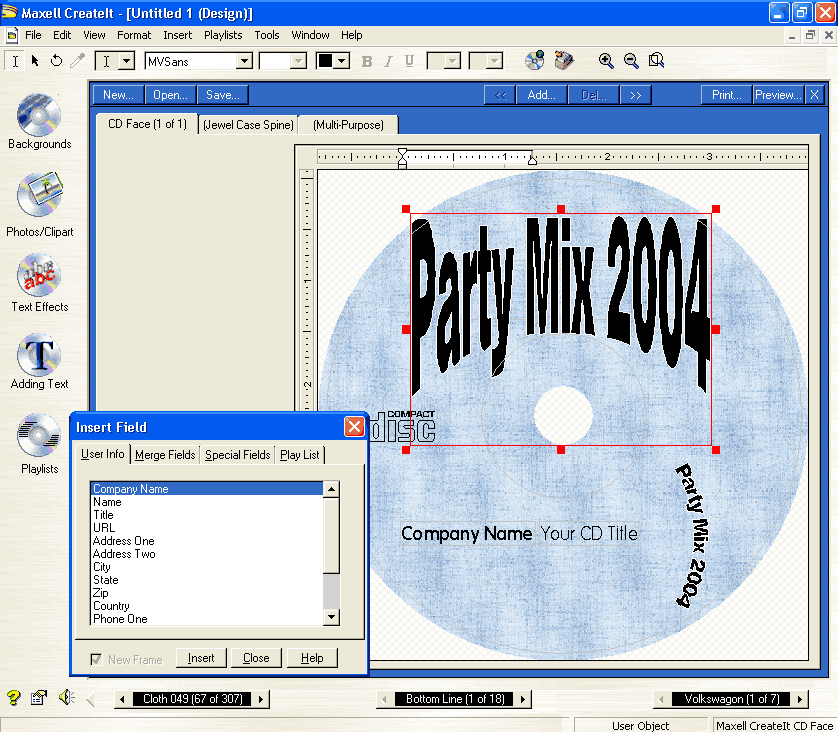 The $10 Maxell CreateIt CD Label Kit includes a pack of 22 CD/DVD disc labels, assorted spine and jewel case labels, Image Software, and a disc applicator. (Another Maxell starter pack includes a greater variety of labels.)
The $15 Verbatim DVD/CD Label Kit includes Verbatim Label Design Software Version 3.0, plus 30 CD/DVD face labels and corresponding spine labels, as well as one DVD case insert, four CD jewel case inserts, and a disc applicator identical to the one in Maxell's kit.
The label sheets supplied by both vendors look similar, but the Maxell sheets have convenient side flaps to assist when using the applicator. Figuring out how to insert the sheets into your printer is a bit tricky; the kit's documentation says nothing about this. The Verbatim sheets lack flaps, but include some printed instructions on how to orient the label page in your printer. (Unfortunately, the instructions didn't say which side of the sheet should face up, so I initially printed on the wrong side.)
Both packages can print DVD/CD face labels, standard jewel case spine labels, slim case spine labels, and CD case inserts; the Verbatim kit can also print full, movie-size DVD inserts. As with my past experiences, the disc applicators didn't help much in my attempts to apply a wrinkle-free, properly aligned label.
The software provided with each kit is based on MicroVision Development's SureThing CD/DVD Labeler software. The limited versions are tailored in each case to recognize only the vendor's labeling stock. Rotating text is easier in Verbatim's version of the software. However, in both cases, there are almost too many design options, and many tasks are counterintuitive (applying text styles, for example, requires too many clicks). Any software that requires the user to know about "merge fields," or assumes that users know they need to set text-wrap margins, has a way to go in usability.
Not surprisingly, the SureThing software included in these kits is a limited version of the full package. The downloadable upgrade to SureThing 4 is available from the vendor's Web site for $15. This is a worthwhile investment considering that the full version adds support for importing playlists from audio players like MusicMatch or Windows Media Player, and for looking up track title information via an Internet database. Version 4 also has full support for creating CD and DVD case inserts, adds label templates for a broader variety of label manufacturers, and adds support for transferring your label design between projects. SureThing 4 includes a huge, if not overwhelming, clip art library--and you can download more clip art from the Web site.
Not Much of a Whiz
LabelWhiz has several starter kits, but the most complete is the company's $20 3-in-1 Label Kit, since it includes full-size DVD inserts. The kit provides 15 sheets of LabelWhiz labels, five jewel case inserts, and three label/sleeve combo sheets, plus a CD cleaner. Two software programs round out the package: LabelWhiz's LabelCreator Pro 4.3 and the shareware version of Jasc Software's Paint Shop Pro 4.1 image-editing software.
Although the LabelWhiz package is billed as a CD and DVD labeling kit, the included software covers much more ground than just optical media. You can also create audio and video cassette labels, a variety of address and office labels, and labels for other storage media like DATs, Jaz and Zip disks, and 3.5-inch floppies. Sadly, there's nothing for newer media such as USB flash drives, CompactFlash cards, or Secure Digital cards. While the software doesn't support all competitors' label templates, it does work with some, including those from Avery and SureThing.
Once I got past the preliminaries of choosing a label type, I found the software inflexible and frustrating to use, with a poor user interface and an unsophisticated design that seems to be in desperate need of updating. Counter to what you'd expect, you can't simply drag a text or graphics box to resize it, for example. And if you swap out a clip art image, you have to position and size the new image from scratch. Design elements that expect text have placeholders of the "Click Here to Add Text" variety, and if you don't remove that text it appears on your printout. It's not transparent, a more sensible treatment I've seen in other desktop publishing software.
Next month: The quest for the perfect labeling method continues.
Shop Tech Products at Amazon