Japanese consumer electronics makers continue to keep their eyes on video. Several cool new video products were introduced in February, including camcorders with impressive features. Sharp, meanwhile, debuted a notebook computer that places as much importance on TV viewing as computing, and upgraded its Galileo home video recorder and server.
One of the most interesting products of the month turned out not to be particularly expensive or packed with technology, but something that might become a trend. It's an adapter for a couple of Panasonic digital cameras that allows for images to be sent from the camera via wireless e-mail. You don't need a PC and you don't need to wait until you get home.
The most intriguing product of the month was certainly Takara's Dream Factory, which, it is claimed, can help steer your dreams towards a subject of your choosing. It also promises to wake you gently in the morning so that you don't forget those happy dreams.
Cut the Cord

Taking pictures and instantly e-mailing them to friends is something that has largely been restricted to camera-phone users. Digital camera users have few options other than carrying around a notebook PC to send the images. Now that may be changing. In March, Panasonic will put a wireless adapter on sale in Japan for its DMC-FX1 and DMC-FX5 cameras.
The adapter clips onto the base of the camera and can be connected to a wireless modem. Through the modem, designed for Japan's PHS (Personal Handyphone System) network, users can send up to 2MB of attached images via e-mail. PHS is popular in Japan because of its flat packet-data charges. Sending large files is also less of a problem than over the conventional cellular network. The DMW-WT1 will go on sale in Japan on March 11 and will cost around $186. There are no immediate plans to sell it overseas.
That's Entertainment

Sharp has engineered a couple of new features into its latest notebook computer, the PC-XV1-7DE. Designed for audio-visual functions rather than pure computing, the PC includes a TV tuner and a DVD/audio CD player, and is the first from Sharp to feature a screen with a brightness of 500 candela per square meter. That's brighter than most of the company's LCD televisions.
There's also an instant-play function that, while not quite living up to its name, allows users to watch TV within around 12 seconds of pressing the TV button. The instant-play mode doesn't boot up Windows, so it's faster than waiting for everything to start as normal, which takes around a minute according to Sharp. In addition to the 15-inch screen, the notebook includes an Advanced Micro Devices Mobile Athlon XP-M 2400+ processor, a 60GB hard drive, and 256MB of memory. It will go on sale in Japan on February 25 and will cost around $1860. No plans for overseas sales were announced.
Direct to DVD
Sony announced a couple of camcorders that do away with tape in favor of DVD-R or DVD-RW media. The models are differentiated by the resolution of their digital image sensor, which is 1 megapixel on the DCR-DVD201 and 680,000 pixels on the DCR-DVD101.

This doesn't affect video recording, which is at 640-by-480-pixel VGA resolution on both cameras, but does have some effect on the quality of the still images that can be taken. The DVD101 can take images at up to 640-by-480-pixel resolution; the DVD201 manages up to 1152 by 864 pixels. The 10X optical zoom is more powerful than most digital still cameras can offer.

Both camcorders measure 1.9 by 3.5 by 5.4 inches; the DVD201 weighs 1.1 pounds, while the DVD101 is less than an ounce lighter. They will go on sale in Japan on March 20 and be available in the United States in April. In Japan the DVD201 will cost around $1209 and the DVD101 $1023.
Get the Picture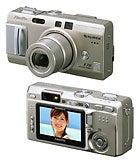 Fuji Photo Film plans to launch a digital camera with a wide-screen display in March. The FinePix F710 is an updated version of the F700, currently on sale internationally, and features a 2.1-inch wide-screen LCD on the reverse. Images can be captured in either wide 16:9 or conventional 4:3 aspect ratio. A 4X optical zoom lens sits in front of one of the company's Honeycomb 6-megapixel class sensors. The highest quality output is a 2832-by-2128-pixel resolution in 4:3 mode, and 2816-by-1584 pixel resolution in 16:9 mode.
The FinePix F710 uses FujiFilm's XD Picture Card storage card format. It uses PictBridge technology for sending images directly to a printer without the need for a PC, and it has a USB 2.0 data port. It measures 4.3 by 2.1 by 1.1 inches and weighs 7.9 ounces. It will go on sale internationally in mid-March for $460.
Another Wide-Screen Alternative

Canon's latest digital camcorder is jam-packed with technology, including a megapixel-class image sensor. That sensor is put to use when recording video in the camera's wide-screen 16:9 mode, which retains vertical resolution and uses the full width of the sensor for the wide picture. That results in a better picture than some other cameras that crop the top and bottom from a regular image and then enlarge it to fill the screen, according to Canon.
Still images can be captured at up to 1280-by-960-pixel resolution and stored on a Secure Digital memory card. The camera also supports the PictBridge and Direct Print standards for direct connection to printers so you don't need to feed the images through a computer. It measures 2.9 by 3.1 by 5.1 inches and weighs slightly more than 1 pound. It's likely to cost around $840 when it goes on sale in Japan in mid-March. It will be launched in North America as the Elura 70 and in Europe as the MVX250i.
Start Talking

Voice recorders aren't the hottest sector in electronics, so you might have missed some of the advances made in the last couple of years. For example, one of the latest models from Matsushita Electric Industrial (Panasonic) has the ability to record for almost 67 hours--that's more than 2.5 days--if you turn down all the settings to the lowest levels. In high-quality mode the recording time is still pretty impressive at 19.5 hours.
Audio files can be transferred from the RR-US630 to a computer via a USB cable. A potential downside is that the recorder doesn't use the popular MP3 format. Instead, it uses TRC, which probably means you'll need to install the bundled software to listen to the audio on a PC. It will go on sale in Japan on March 10 and cost around $230.
Entertainment Center

Sharp has updated its impressive Galileo home video recorder/server with new features. The Galileo works as a conventional hard drive-based video recorder and, in addition to showing recorded programs on the TV, can stream recorded shows across a wireless LAN or the Internet to a PC
The new version adds the ability for the programs to be accessed from Sharp's SL-C700 series Zaurus PDA. The hard drive has also been increased to 160GB, which means it can accommodate up to 155 hours of video. The built-in wireless LAN adapter has been upgraded to IEEE 802.11b/g. It is on sale in Japan and costs around $930.
On Display

Casio Computer has launched the second camera in its QV-R line. The two models are similar in most ways to the company's popular Exilim series, but are slightly thicker. The QV-R51 sports a 5-megapixel image sensor; its extra thickness is a product of the 3X optical zoom lens. There's also a 2-inch TFT LCD on the reverse, which is bigger than the displays found on many competing cameras. It's also one of the things that Exilim owners seem to love about the cameras.
The QV-R51 runs on a pair of AA batteries and Casio says two fully recharged batteries should power it long enough to take about 900 pictures (2.5 hours of continuous use), so a day's average usage shouldn't be a problem. It measures 3.5 by 2.4 by 1.3 inches and weighs 5.9 ounces. The camera is now on sale in the U.S. and Japan and costs around $400.
Sweet Dreams
Here's something to send you to sleep from the same company that brought us the Bowlingual dog translator. Toy-maker Takara will begin selling in May a new product that is supposed to influence your dreams.
The Dream Factory tries to stimulate the user during REM sleep so that the likelihood of getting the desired dream is increased. This is done by playing music, releasing a scent, and playing at a low volume a phrase you have recorded for the dream, such as "I want to fly." You are supposed to focus on an associated image or photo before you sleep for better effect. The device is programmed to gently awake its user in the morning so there is more chance that the dream will be remembered. In Japan the device will cost $140; there is no word on whether it will be offered overseas.