capsule review
Microsoft Wireless Optical Mouse
At a Glance
Microsoft Wireless Optical Mouse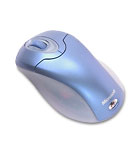 The $45 Microsoft Wireless Optical Mouse fits either hand, and it offers right- and left-click options, a textured scroll wheel, accelerated scrolling, and some customization options. This stylish mouse sports a distinct arch as well as a perch for your thumb and another for your pinky, and it's bulkier than some of the other mice we tested. You also have a choice of four colors--light blue, dark blue, steel blue, and red--if you care about such matters.
The right- and left-click buttons are longer than normal and comfortable to use, and scrolling around documents using the middle wheel was easy in our tests. The mouse's overall sensitivity was impressive, and the cursor's movement was very smooth; we didn't need to change the default settings for speed. The scroll wheel permits you to move side to side as well as up and down. However, the accelerated scrolling feature, which lets you speed up your pace within documents, tended to be jerky, and one tester had to turn off this default setting to eliminate the erratic behavior.
People who don't like flatter-shaped mice may approve of the Optical Mouse's curvy design. The contours give your thumb and pinky plenty of room to rest. However, testers with small hands discovered that the pronounced arch forced their hands to bend more than normal, and they felt that a wrist rest would be required for this mouse. One tester with particularly short fingers had to stretch a bit to reach the scroll wheel.
Considering its $45 list price, we expected the Optical Mouse to come with more features. For example, given the curvy shelf areas for your thumb and your pinky, it would have been handy to have one customizable button on either side.
Microsoft estimates that the mouse's two AA batteries will run for about six months or longer.
People with large hands will like this mouse, especially if they favor a curvy design and a choice of colors.
Aoife M. McEvoy
At a Glance
Microsoft Wireless Optical Mouse
Shop Tech Products at Amazon