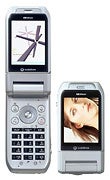 Sharp is unveiling a cell phone handset that comes closer than any other phone to duplicating the functions of a standard digital still camera.
The V602SH handset will go on sale in Japan in late June this year through Vodafone. It combines a 2-megapixel CCD image sensor and optical zoom. A 2X optical zoom can be realized with a single button push when the phone is in digital camera mode, while a second push returns it to no zoom. Positions between these two settings are not available.
It's the first time a cellular telephone has featured an optical zoom, Vodafone said, as it unveiled the phone at Business Show 2004 in Tokyo on Tuesday.
Until now camera-equipped cellular telephones have featured either a digital zoom or no zoom function at all. The V602SH includes a digital, as well as an optical, zoom function.
Optical zoom requires the position of the lens to move, and that makes it more difficult to fit into small devices such as cellular telephones where space is limited. Sharp installed the camera module behind the hinge on the lower half of the clamshell phone, to make use of the extra space at the thickest part of the case.
Additional Features

Another feature is the ability to swivel the display around through 180 degrees so that it faces outwards when the clamshell-style handset is closed. This enables the phone to be held like a normal camera when taking pictures.
The display itself is a 2.4-inch TFT LCD with 320 pixels by 240 pixels (QVGA) resolution and the ability to display 260,000 colors.
The phone also supports Java applets up to 256KB in size, a digital music player, barcode reader, and menu that can be switched between Japanese and English.
It measures 1.9 inches by 3.9 inches by .9 inches and weighs 4.7 ounces. Talk time is 130 minutes and standby time is 400 hours.
No price has been set for the phone at present and it will not go on sale overseas. However, Sharp has recently been taking technology from its Japanese handsets and offering it in GSM handsets for the European market.