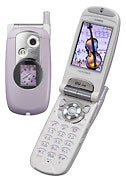 Japanese cellular carrier KDDI plans to begin selling in early June a cell phone with an embedded 3-megapixel resolution digital camera, it said Wednesday. The handset will be the first in the world at this resolution, according to the carrier.
The announcement came almost a year to the day since the first megapixel-class cell phones went on sale in Japan and around six months after the first 2-megapixel models hit shelves.
Only in Japan
The A5406CA is manufactured by Casio Computer, which also produced the first 2-megapixel handset. Features include a 2.3-inch thin film transistor display with 240-by-320-pixel resolution, a 1.1-inch sub display, a USB cradle to allow for easy transfer of images and video files to a PC, a 12.8MB internal data folder and a slot for miniSD cards.
It measures 2 inches by 4 inches by 1 inch and weighs 4.5 ounces. KDDI, which offers service under the 'Au' brand name, hasn't announced the price of the phone. It's compatible with Japan's variant of the Code Division Multiple Access standard and won't go on sale overseas.
Attention to Quality
The launch represents another step towards closing the resolution gap between cell phones and full-fledged digital cameras. However, as the resolution of camera phones rises, differences in the optical system between phones and cameras are becoming more apparent and forcing manufacturers to pay attention to more than just pixel-count.
Last week Sharp unveiled a new camera phone with optical zoom function, which is also a world first, according to the company.
The V602SH handset will go on sale in Japan in late June this year through Vodafone KK and features a 2-megapixel image sensor. A 2X optical zoom can be realized with a single button push when the phone is in digital camera mode, while a second push returns it to no-zoom. Positions between these two settings are not available.
Size Matters
Getting better-quality optics and especially a zoom lens into a cell phone represents a challenge for manufacturers because this demands more space and that's difficult to find inside a cell phone without making the device larger.
Sharp installed the camera module and zoom lens in the V602SH behind the hinge on the lower half of the clamshell phone, to make use of the extra space at the thickest part of the case.
Camera makers are also facing similar issues of quality versus size.
Sony's DSC-T1, a 5-megapixel camera launched in October last year, and several other cameras launched recently get around the problem by mounting the lens sideways inside the camera so that it points upwards rather than out. A prism is then positioned to bounce light so that the sensor and lens are effectively "seeing" what's in front of the camera.