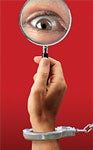 Here's good news for surfers stressing over spyware that surreptitiously slips onto their PCs to track their whereabouts and serve up advertising: A legal noose is starting to tighten around its purveyors.
Utah has made installing programs on a PC without the user's approval a $10,000 offense. California, Iowa, and New York are considering similar laws, and Congress is weighing federal legislation.
"Using underhanded tactics, these companies are not only invading your privacy but hurting legitimate online companies," says Utah state representative Steve Urquhart, sponsor of that state's Spyware Control Act.
Spyware's recent spread has been breathtaking. Network monitoring firm Websense found spyware on 92 percent of PCs in an April study of firms with more than 100 employees. Microsoft blames spyware for over half of all application crashes. An analysis by EarthLink/Webroot reports an average of 28 spyware programs running on each PC it scanned for a recent study.
Booting Legit Ads?
But some observers think anti-spyware laws will prohibit legitimate online ads and stifle innovation. "We feel this law will essentially outlaw a perfectly acceptable form of advertising and commerce," says Emily Hackett, executive director of Internet Alliance, a vendor trade association.
Advertisers and makers of ad programs want laws to distinguish between spyware and adware. "We agree there is a problem," says Robert Regular, president, Americas, of Cydoor Desktop Media. He notes that spyware installs itself without your consent and tracks your surfing habits so it can target ads.
The Federal Trade Commission has voiced its concerns about the scope and burden of new laws, says Tom Pahl, assistant director for advertising practices. Still, the FTC has not yet taken an official position on the new laws, he adds.
The legitimate adware business is small and focused on survival and growth, making it hard to work on proposed self-regulation, notes Tim Hickernell, vice president of market research firm MetaGroup. He opposes legislation and says that Utah's law goes too far.
For now, worried users can try the spyware removal tools at "Free Internet Utilities: Kill Spyware, Pop-Ups, Home Page Hijacking".