At Apple's recent Worldwide Developers Conference, Steve Jobs provided a preview of the next revision to the Mac OS X operating system, code-named "Tiger." There were lots of new ideas for software engineers to chew over, like extensions to OS X's UNIX underpinnings, but also plenty of tantalizing new goodies for ordinary Mac users to look forward to. Read "Jobs Touts Apple's Advances" for a report from the conference.
Frustratingly, Tiger won't be released until next year--but you don't have to wait to get a taste of some of the cool new features. Here are the most interesting aspects of Tiger, plus shareware programs that provide at least some of the same functionality now.
IChat AV: Group Videoconferencing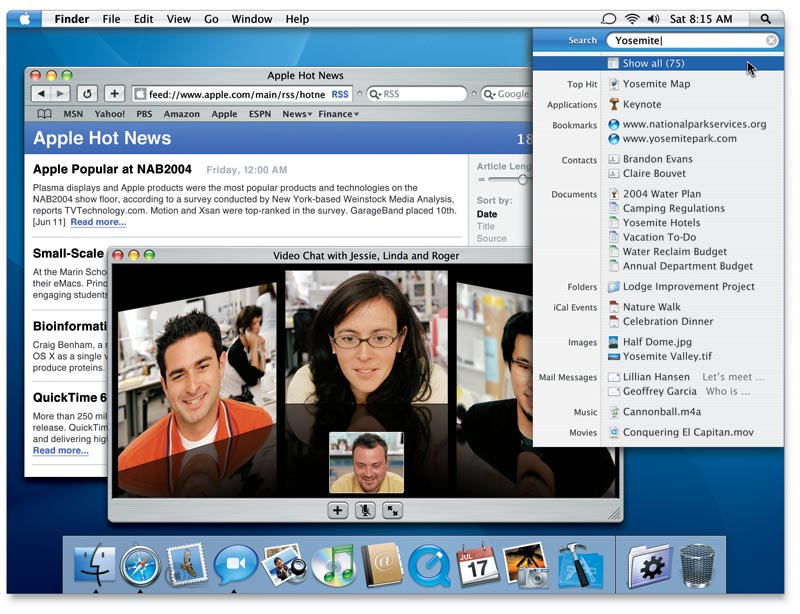 In the next version of IChat AV, you'll be able to hold voice chat sessions with up to nine other people, and videoconferences with up to three others, all within IChat's slick, easy-to-use interface. In the demo shown at WWDC, the videoconference participants' video windows appeared as part of a 3D triptych within one window. It was undeniably flashy. Apple claims that the new video codec it has adopted will result in better image quality while conserving bandwidth.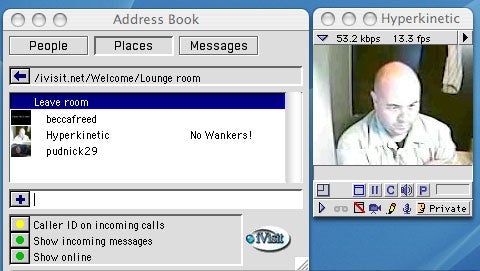 We'll have to wait for Tiger's release to judge these claims; in the meantime there are video chat applications like IVisit. While the free version, IVisit Lite, supports only one-to-one video chatting, the $40-per-year IVisit Plus allows eight-way videoconferences. IVisit works, but the interface is a little harder to use than IChat's, and less polished. For instance, in lieu of a video signal from a Webcam, I tried to put up a still photo of myself in my IVisit window, but I couldn't get it to appear, despite repeated attempts. So in my own window, a black box appeared instead of my photo, although the video signals of those I was chatting with did appear in their designated spots. Despite this small glitch, IVisit is a workable, inexpensive solution.
Spotlight: No More Hidden Files
The Tiger feature I'm most anxious to try is a new, super-search capability for the contents of your own drives that promises to be better than Google. When Steve Jobs got to the end of the Spotlight demo, I thought, "Yes--this is how searching should work." Spotlight found search terms inside files as diverse as e-mail messages and PDFs of images. The Spotlight search box will be available in any window, save your search terms, and have a slew of other powerful tools for getting your hands on exactly the bit of information you need, no matter how well you've hidden it from yourself.
I cannot find a comparable Mac tool available now, more's the pity: In the past there have been some utilities for Windows that do this kind of magic, including an applet from Autonomy and one from Six Degrees. Just one is currently available, and it's only for Windows: X1 Technologies' X1 Search.
One way to beef up the Mac's Find capabilities now is to use Skytag Software's File Buddy 8, a $40 file-management software with powerful structured searching. It's not as easy to use as Spotlight should be, or as fast as Spotlight is reputed to be, but it's more extensive than OS X 10.3's relatively simple Find utility.
Dashboard: Keep Your Tools Handy
If you're always rummaging through the Finder to get to utilities like your calculator or sticky notes, you'll love Tiger's Dashboard.
Dashboard lets you load small, single-purpose applets called "widgets," which can be shown or hidden by pressing one function key. The prototypes demonstrated in Jobs's keynote at WWDC included a world clock and a little Webcam window. The idea is for independent developers to write their own widgets for Dashboard, so you can pick a batch that suits you--but expect to see a handful included with Tiger.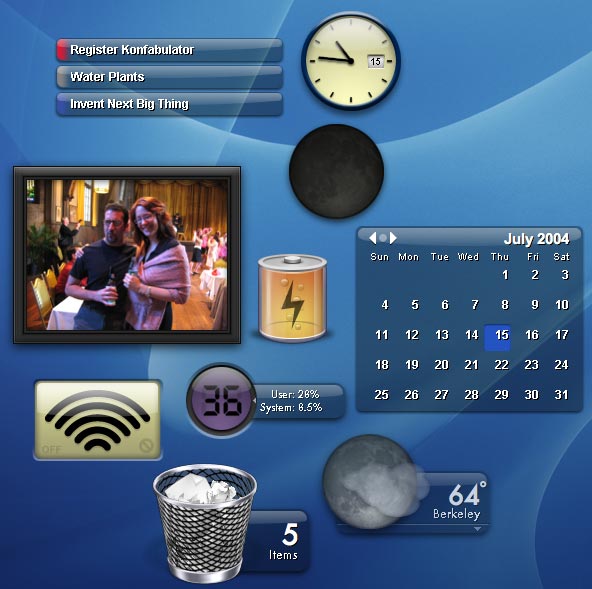 If you must have doohickeys on your desktop now, check out Konfabulator, a platform that lets you load clever and handsome little tools (also called widgets), like a small music player, on your desktop. There's a minicontroversy among Mac observers about whether Apple swiped the Dashboard idea from the makers of Konfabulator.
Industry kibitzing aside, Dashboard and Konfabulator are different in one way. You'll pay $25 to license Konfabulator, but most of its widgets are available for free. Apple's Dashboard will be part of the operating system, and included in its price. Developers presumably may charge some fee for their widgets.
When Tiger shows up sometime next year, we'll have a lot of cool new stuff to try out and compare. Hopefully the third-party programs here will tide you over until Tiger arrives.