Go online and you'll find a slew of cheap DVD burners. Some drives have trusted brand names you've seen on a store shelf near you, like Sony, Pioneer, or Lite-On; other drives may be offered by companies that are equally familiar, but that don't typically sell their drives at retail. NEC, for example, doesn't sell drives to consumers under its own name: It makes them for other companies.
But whatever drive you're considering, read the fine print carefully before you pull out your credit card: Usually these cheap drives are cheap for a reason, and they carry a hidden premium.
OEM Packages
Whether you find these unusually well-priced drives online via PriceGrabber.com or Pricewatch, or at a mom-and-pop shop, chances are you're looking at what's known in the industry as an OEM model; some of the drives are even labeled as such. OEM (or "original equipment manufacturer") is the designation vendors use to indicate a product intended for sale to another manufacturer, as opposed to you, the end user. If you're shopping in a computer store, a tip-off might be that the salesperson is hawking a drive without a retail box or packaging, which is known in the industry as a "bare drive."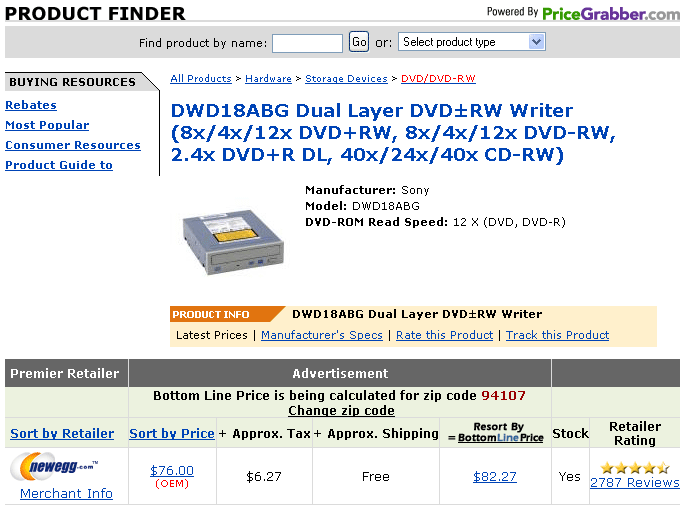 At first blush, an OEM drive might sound like a great deal--after all, it's made by a name-brand vendor, and it's going for a great price. For example, you might pay just $76 for the Sony DWD18ABG, an OEM version of Sony's popular DRU-700A. The DRU-700A goes for $150, or even $180 if you buy it directly from Sony.
What most people don't realize is that while buying an OEM drive might save them money in the short term, they might regret the choice down the line. Manufacturers consider OEM drives to be completely differently from their retail products. And if you buy one, you have no direct connection to the manufacturer. OEM drives carry no manufacturer's warranty; lack the burning software that typically comes with the drive; and are ineligible for firmware upgrades.
Take the case of Sony, which has received calls from users who unwittingly purchased an OEM drive. "The OEM burners don't include the software, and don't include tech support," says Sony spokesperson Elizabeth Boukis. Similarly, Sony's firmware upgrades are available only for those who buy its retail products.
Are Cheap Drives Worth the Price?
According to PriceGrabber.com, the pricing engine that powers PC World's Product Finder, three of the top five most popular DVD burners are OEM models. Not surprisingly, the main appeal of these drives is their cost; competing drives with the same specs are available, but they're more expensive.
But just how much are you really saving? If you buy one of these drives and use software you have left over from an older burner, the software might not recognize the newer drive--and it almost certainly won't allow the newer drive to work at its full potential. For example, the new drive may work at 4X rather than 8X. A software upgrade may do the trick, but you'll be the one doing the detective work to figure this out. And if a free download isn't available, you'll need to pay for a new version of the software.
If you don't already have software, you'll have to pay $70 to $100 for either Ahead Software's Nero 6 Ultra Edition or Roxio's Easy Media Creator 7, the twin gold standards of burning software. Add that to the price of the OEM burner, and you're already spending as much, if not more, than you might have if you bought a retail drive that came with one of these packages, or at least with a current limited edition that supports the drive's capabilities.
No Firmware Updates
Factor in the other elements you miss out on, and your new drive may seem even less of a bargain. If you buy an OEM drive, your drive's firmware is frozen at the time of manufacturing. That's an important point considering that most vendors use firmware upgrades to do everything from fixing speed glitches to adding additional media support and new drive capabilities (see my column on this subject). For example, we recently tested the Sony DRU-530A for our October 2004 Top 10 DVD Drives chart. The drive performed well on all of our tests but the one for rewritable performance. As a result, Sony says it will have a firmware update on its Web site to correct this snafu.
If you'd bought an OEM version of Sony's drive, you'd be out of luck. That's because drive makers, including Sony and Pioneer, program their firmware updates to work with drives that have ID strings the updates recognize, whether the drive bears the company's own brand or that of an authorized partner that is repackaging and selling the drive at retail. If the drive's firmware identifies it as an OEM drive, that drive won't be able to use the firmware upgrade.
Firmware updates are usually the responsibility of the company that's the last link in the chain, and those companies generally keep users up-to-date as needed. Typically, the last link is the vendor that markets the drive. In the example of Pioneer, the drive is manufactured and marketed by the same company. Drives marketed under such brand names as Kano, LaCie, Pacific Digital, and TDK are made by other companies, such as NEC and Pioneer. TDK and vendors like it provide tech support and upgrades for the drives they sell. But OEM drives that are sold online or at retail stores aren't backed by any drive vendor--if you buy one, you're on your own.
A final word of caution about buying drives: Beware of unusually low prices, or oddly worded ads. Some sellers might not call a drive an OEM, or they might say it's an OEM drive with a warranty--but that doesn't mean you're getting the manufacturer's warranty. For example, a call to A2ZComp.com--an online retailer offering the OEM version of Sony's DRU-700A drive for $109--revealed that the drive's warranty was through A2ZComp.com, not Sony.