Talk about a never-ending battle! For the third October in a row, our cover spotlights the nuisances that obstruct PC productivity. We like to think we're making a dent in the problem. But annoyances are sort of like Tribbles: Get rid of one, and a half-dozen more pop up to trouble you.
So this time around, we're devoting an entire special issue--spearheaded by Executive Editor Edward N. Albro--to irritations and their fixes. To which I hereby add another bit of annoyance-busting advice: Ditch your browser.
That's assuming you use Internet Explorer, of course. (Odds are you do: 88 percent of visitors to our Web site run it.) Windows XP Service Pack 2 seals some security holes and adds (finally!) a pop-up blocker, but IE feels increasingly like a shaky, lumbering dinosaur.
By contrast, its leading rivals, Mozilla Firefox and Opera, are full of tools to make browsing less taxing. And while no browser is a fortress, these two are safe from a bevy of IE-specific glitches. Some of those holes are serious enough that the Department of Homeland Security's computer security division has publicly mused about the benefits of switching (see "Is It Time to Ditch IE?").
It wasn't always this way. Back when the browser war raged, IE received frequent (and meaty) upgrades. Only when a bundled-with-Windows IE conquered the market did it start to calcify.
But a funny thing happened when the war ended: The losers forgot to surrender. True, Netscape, like Microsoft, ceased doing much to beef up its browser. But instead, the company did something at least as constructive: It created an open-source version, Mozilla, that third-party developers could reinvent.
Firefox, the newest Mozilla upgrade, is still in beta as I write. Already, though, this free download is an uncommonly polished product. For instance, searching for a phrase in a Web page couldn't be simpler: Just start typing the word, and Firefox scrolls forward to find it. And tabbed browsing, which lets you wrangle multiple Web pages in one window, feels like an essential feature that IE never got around to implementing.
Meanwhile, the Norwegian creators of Opera continue to add new stuff. In some ways, their browser is more inventive (albeit more cluttered) than Firefox. For example, it has an RSS newsreader and a nifty little note-taker built in. The full version costs $39, but the ad-supported edition is free.
Nervous that your favorite Web sites won't function well in a browser that doesn't hail from Redmond? Don't stress out about it: I've adopted Firefox as my primary browser for work and play, and nearly every site I've visited is at least as functional in Firefox as it would be in Internet Explorer. IE remains on my drive for sites and services that demand it.
Many of my cohorts have moved on, too: A plurality of our editors now favor Mozilla. Our office may be an atypical workplace, but every new IE security bulletin provides more reason to try an underdog alternative.
I'm not saying that Firefox or Opera will win Browser War II. Still, if even a small fraction of the world were to abandon Internet Explorer, Microsoft would surely work harder to build a better browser. And that wouldn't be annoying at all.
Digital World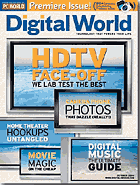 A Whole New World:
HDTV, DVD recorders, Media Center PCs, gaming phones--don't look now, but entertainment has gone digital. And now there's Digital World, a new bimonthly publication from
PC World
filled with reviews, news, and help on these products and much more.
If you're a
PC World
subscriber, you can
download DW
in Adobe Reader format. Copies of
PC World
sold at newsstands and other retailers will include the print version. Check out
www.digital-world.com
for more information.