capsule review
Dell Inspiron 9100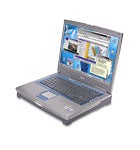 Don't let the Incredible Hulk exterior turn you off to the good inner qualities of the Dell 9100. With a thick two-tone case and a double row of rear connections, this hefty 9.2-pound notebook looks as if it's sitting on top of a docking station. While hardly a flattering sight in these days of svelte portables, this latest Dell wide-screen notebook is a fine desktop replacement that's well equipped and sounds terrific.
Our fully loaded 9100 came with a 15.4-inch screen; Bluetooth and Wi-Fi wireless communications; a double-layer, write-capable 8X DVD+RW burner; dual pointing devices (touchpad and eraserhead); and almost every other notebook feature except a TV tuner and a card reader.
The 9100 performed well in our speed tests, earning a WorldBench 5 score of 81. That's 3 and 11 points higher, respectively, than two other notebooks with the same 3.2-GHz Pentium 4 processor and 512MB of RAM.
The 9100 is also highly expandable. For an extra $199, you can upgrade from the 60GB, 7200-rpm hard drive in our test unit to a 100GB model. Only one other notebook manufacturer, HP, currently offers this option. You can also outfit the DVD drive's modular bay, complete with spring-loaded side release, with other types of optical drives.
Theoretically, you should also be able to add external optical and hard drives via a shell connected to a special port (a powered USB port). Although no such devices are sold specifically for the 9100, Dell says the shells and drives compatible with its Latitude D800 are compatible with the 9100.
Multimedia fans, listen up: The 9100 jams big-time. The front stereo speakers team up with a bottom subwoofer integrated into the 12-cell battery to rock your business presentations and DVD movies. Press-and-hold buttons above the keyboard let you easily control volume. Buttons flanking the keyboard let you easily control music CDs.
Need a larger screen? Dell throws in an adapter cable to make the 9100's S-Video port work with the composite ports on an older TV. Plus, the 9100's rear DVI port connects directly to a digital LCD--rare for a laptop.
Typing on the 9100's big, deep keyboard produces an audible thumping, which some users may find annoying. However, the keyboard layout is good; both the touchpad and the eraserhead are easy to use. The eraserhead's mouse buttons, located just below the keyboard, press down especially easily; however, the touchpad's buttons are too stiff.
If you're the manual-reading type, the 9100 comes with solid printed documentation. You can also download an easy-to-search, hyperlinked Acrobat version from Dell's Web site.
The 9100's only real Achilles' heel is battery life, which at a mere 1 hour, 26 minutes, is among the worst in our current batch of notebooks. This performance is not surprising, however, given the 9100's energy-hogging 3.2-GHz Pentium 4 desktop processor. To alleviate the problem, Dell sells a $129 16-cell battery upgrade (without integrated subwoofer), which fits into the same slot as the 12-cell battery.
Fantastic audio and a full feature set turn this oversize ugly duckling into a beautiful-sounding swan.
Carla Thornton
Shop Tech Products at Amazon