Sometimes the big software vendors act like their customers are locked into the proprietary products they sell. You may think your only options are to wait for patches and updates on your vendor's schedule, or completely switch to Linux. But here's a little secret: You don't have to dump Windows to benefit from the open-source software revolution. A raft of new applications is available, giving you the best of both worlds: software that is repaired and enhanced by a community of users, and that runs on the PC you use every day.
A word of warning: open-source apps usually lack the polished interfaces and documentation of their commercial-software counterparts. But if you're willing to put up with some rough edges, tricky installations, and the occasional incompatibility, you may find that these programs meet your needs, and at a price that can't be beat. Of course, if you should feel moved to pay back the programs' creators by contributing some cash to their program's development, you'd be right in the spirit of open source.
Perhaps the most popular open-source Windows programs are the free Mozilla and Firefox browsers. Apart from offering all the features (and more) that are found in Microsoft's ubiquitous Internet Explorer, the alternative browsers are safer because they're rarely the target of virus writers, many of whom make a career out of exploiting the security holes in IE (and by extension, Windows). Both Mozilla and Firefox are available for download.
Many PC users have forsaken Microsoft's Office application suite in favor of the free OpenOffice.org. This Office-compatible collection includes the Writer word processor, the Calc spreadsheet, the Impress presentation program, the Draw diagramming software, and a flat-file database. Go here for the free download.
Those interested in downloading Open Office should note that an agreement signed last April between Microsoft and Open Office's major sponsor, Sun Microsystems, appears to let Microsoft reserve the right to sue Open Office users who download the program after the signing date. The agreement became public this week.
However, it may not be much of a risk. Russ Castronovo, a Sun spokesperson, says that Microsoft has always had the right to sue Open Office users. "That existed before, so nothing changed in that respect, he says. "Open-source software is typically provided without warranty and liability coverage. Open Office is no different."
Replace Office One App at a Time
If you prefer stand-alone programs, there are open-source alternatives that serve nearly all of your business needs. For example, the Dia diagramming tool is intended to replace Microsoft Visio, offering much of that program's functionality (although it can't open Visio's .vsd files). A Windows version of Dia is available for download.
Abisource's free AbiWord word processor lets you create, open, and save files in Microsoft Word's .doc format, as well as in RTF, HTML, WordPerfect, and other standard formats. It includes a spell checker and supports more than 30 languages, including Hebrew and Arabic. You'll find the Windows version here.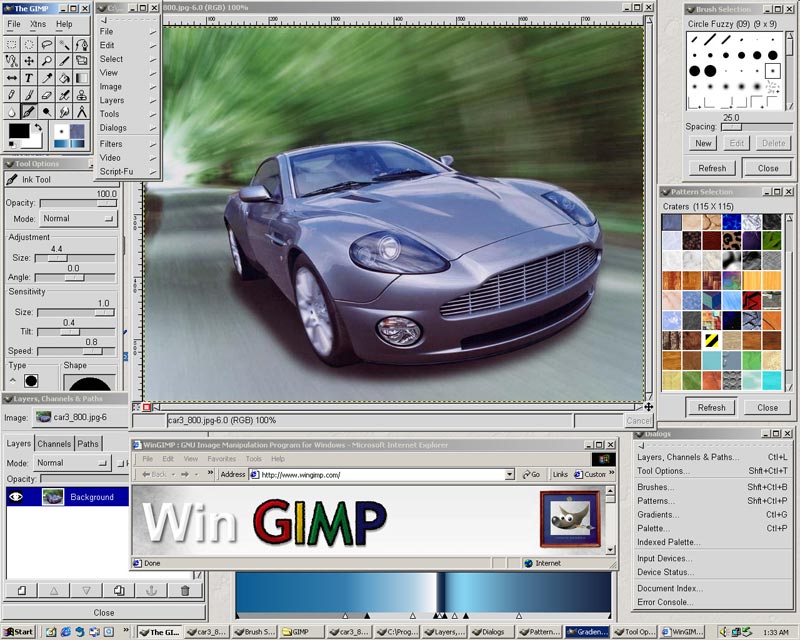 For your image-editing needs, give The Gimp a try. The free GNU Image Manipulation Program doesn't approach the masks and other advanced features of Adobe Photoshop, but it's a surprisingly functional for a freebie. It can be tricky to install, however. It's available from PC World's downloads collection.
A Handful of Handy Utilities
Here's a rundown of some other useful open-source utility programs: