First Look: Creative Zen Portable Media Center
At a Glance
Creative Zen Portable Media Center

I was attracting stares on the train. And it wasn't because I had snagged a seat in the crowded car; it was because of the device in my hands: a shiny new Creative Zen Portable Media Center.
The $499 handheld multimedia player is the first device based on Microsoft's new Portable Media Center platform. I found a lot to like about the Zen, but I'm not convinced I'd be willing to shell out the cash to buy one.
The First of the PMCs
Portable Media Centers, or PMCs, display still images and play audio and video (including TV programs and full-length movies) stored on their hard drive. They do not feature wireless connectivity and they do not stream video or audio. The Creative Zen is shipping now; PMCs from Samsung and IRiver are due later this year.
All will have common features required by Microsoft, including minimum specs for hard drives, display, and resolution. The shipping Zen I tested had a 20GB hard drive and a 3.8-inch display with a screen resolution of 320 by 240. The Zen, which is about twice the size and weight of my IPod, feels sturdy and features firm, shiny buttons and a shiny black case. Unfortunately, that shine can cause light to reflect off the screen at times, making images hard to see.
All PMCs require a Windows XP or Windows XP Media Center Edition PC. You connect the device to your PC via USB 2.0 and transfer content using Microsoft's newly-released Windows Media Player 10. I tested out the Creative Zen on a PC running Windows XP Pro and found it easy to install (though my PC wouldn't recognize the PMC before I upgraded to Windows Media Player 10).
Get in Sync
To transfer content to the Zen, I selected the "Sync" tab in WMP 10. From there, the app presented me a screen split in two; on the left I could build a list of content I wanted to transfer to the Zen, and on the right I could select the Zen itself (you also have the option of syncing content to your CD or DVD drive, or other forms of removable media storage). Then, with one click, the sync began. Transferring a three-hour baseball game (a 469MB WMV file) I downloaded from MLB.com (a Microsoft content partner) took just a few minutes. You can also set WMP 10 to sync content automatically.
PMCs support several content formats, including Windows Media Video, Windows Media Audio, MP3, and JPEG. The device and included software also make it easy to convert files in other formats--MPEG, MPEG2, MPA, WAV, and AVI, for example--into formats you can use.
The Zen is also one of the first devices to support Microsoft's new Windows Media Digital Rights Management 10 (formerly code-named Janus), which will let you transfer subscription-based content from your PC to another Janus-compliant device. Should your subscription run out, the content also expires on the player.
If you use a PMC with a TV-connected Media Center PC (or even a standard XP-based PC with a TV tuner card) it becomes a much more useful device. You can record television programs and transfer them to your PMC to watch while you commute or travel.
However I wasn't entirely pleased by the way WMP 10 managed the Zen. First, it was hard to find the correct software button to safely disconnect the PMC from my computer--there was no equivalent of the "Eject IPod" button found in ITunes. I had to manually shut down the device using the icon in my system tray. Second: when I built a playlist of songs using WMP 10 and then tried to transfer it to the PMC, only the songs on the list were transferred--not the playlist itself.
Let the Audio and Video Play
Playing back audio, video, and still images on the Zen was a breeze. The device powers on in less than 5 seconds, and the opening screen shows a basic start menu that lets you choose from "My TV," "My Music," "My Pictures," or "My Videos." Select one, and you can browse through your media collection and play back your files. The Zen includes both a headphone jack and a built-in external speaker. The included earbuds are serviceable, and the speaker will do in a pinch, but you'll really want better quality headphones to best enjoy the audio.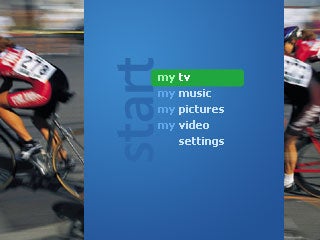 The Zen includes a removable rechargeable lithium ion battery. Creative says the battery will power up to 22 hours of audio playback or 7 hours of video playback between charges.
Video quality was mixed, depending on the source. Movies from CinemaNow were crystal clear, but the baseball game I downloaded would occasionally blur, much the way streaming video appears on my PC. Despite its small size the screen proved easy to see, even when watching big-picture events like a baseball game.
The Zen also features A/V out slots that let you connect the device to a TV to watch a movie or television show. Unfortunately, watching stored video on my 27-inch television wasn't pleasant, as the image appeared distorted. It reminded me of watching video recorded on an old VHS tape. But the Zen is really meant for mobile use, and it does that job fairly well. Still, I'm not convinced it's worth the money for most people. Frequent travelers or TV lovers (especially those with a Media Center PC) might find it to be a dream device, but for the rest of us the price is just too high.
At a Glance
Creative Zen Portable Media Center
Shop Tech Products at Amazon