At a Glance
Olympus PT-020 Underwater Housing for Olympus C-5060 Digital Camera - Rated to 131'

Top Dawg System II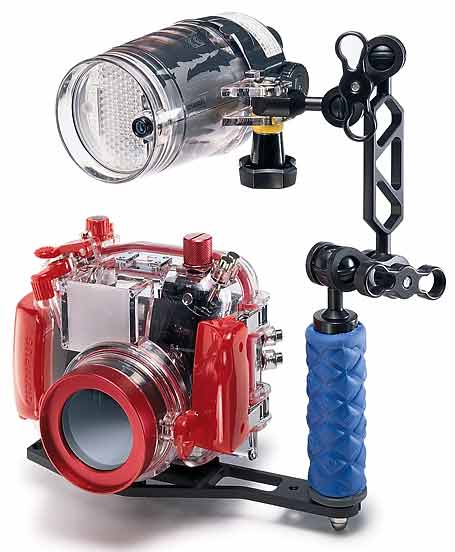 Why limit your photography to terra firma? Whether your taste runs to still or video, there's a good chance of finding an underwater housing for your camera. I tested the $299 Olympus PT-020 housing with my Olympus C-5060 (for which it's intended), and the $1699 Top Dawg System II (made for consumer camcorders) with a Sony TVR-22.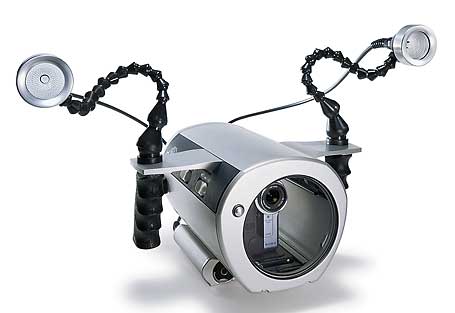 I put both housings to the test in the murky waters off Monterey, California, and had the most success with video. The Top Dawg II--a beautifully constructed aluminum case--is simple to use, with controls that gloved fingers can easily reach while holding the housing's two grips. Two optional high-intensity lights on fully articulating, foot-long stalks allowed me to position the lighting exactly where I wanted it. Backscatter, which distributes the Top Dawg II, also provided me with an optional 2.5-inch LCD that works in place of Sony's viewfinder. It's a $499 extra, but it makes viewing subjects much easier.
Inexpensive and light, the polycarbonate Olympus housing fit the C-5060 neatly. I successfully worked the camera's many control buttons underwater, though doing so wasn't always easy with my thick neoprene gloves on. Getting good shots proved difficult--not because of the housing, but because of the camera's shutter delay. A bugaboo on land, the delay can drive you crazy underwater, where weightlessness makes staying in one place difficult.
A couple of recommendations: Buy a more powerful external flash (they sell for roughly $350 to $550; Sea&Sea's compact and light YS-90TTL costs $535). Invest in a good flash-bracket system--they're available for about $200. Ultralight Control Systems sells a good one.
Olympus PT-020

DW Verdict: Fine for light duty, but key extras triple the price.
Price: $299, housing only
Current Price (if available)
Top Dawg System II

DW Verdict: Don't get wet without it.
Price: $1699
Current Price (if available)
At a Glance
Olympus PT-020 Underwater Housing for Olympus C-5060 Digital Camera - Rated to 131'

Top Dawg System II
Shop Tech Products at Amazon