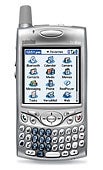 PalmOne this week is announcing the Treo 650, a hybrid PDA/cell-phone device that addresses many of the shortcomings of its hugely popular predecessor, the Treo 600.
Among other improvements, the Palm OS-based Treo 650 boasts a sharp, 320-by-320 color screen that should be readable in sunlight. The 600's screen resolution was 160 by 160, and it was difficult to read in sunlight. In addition, the 650 features a removable rechargeable lithium ion battery (the 600's battery, while long-lived for a PDA/phone hybrid, could not be swapped out). The new model also has nonvolatile flash memory, meaning you don't lose important data if the battery runs down.
Another improvement is the updated camera module. The 600's camera was basically useless for indoor photography, had no zoom, and couldn't capture video; the 650's is supposed to work better indoors, has a 2X digital zoom, and can capture brief video clips. The 650 also has a built-in MP3 player that can play tunes stored on a card in the 650's SD (Secure Digital) slot.
The Treo 650 adds Bluetooth wireless capability, so you can use it with a Bluetooth headset, for example. The new model runs Intel's PXA270 312-MHz XScale processor, a much more powerful processor than the 600.
E-Mail Exchange
Hoping to spur corporate adoption of its top-of-the-line PDA/cell hybrid, PalmOne outfitted the Treo 650's included VersaMail client with Microsoft Exchange ActiveSync capability. This allows you to sync the device with Microsoft's corporate calendar and e-mail. (The Treo 650 also supports POP3 and IMAP e-mail.)
Appearance-wise, the 650 looks very much like the 600, with its mid-size (4.4 inches by 2.3 inches by 0.9 inches) candy-bar form factor and compact keyboard. Its QWERTY keyboard has larger, flatter keys that should make typing easier. The most visible difference is a slight change in the way control keys are laid out.
Like its predecessor, the Treo 650 will come in models for both GSM/GPRS and CDMA 1xRTT networks. It builds on the 600 by adding EDGE support.
PalmOne had no immediate word on when the Treo 650 will be available to consumers, or which carriers will support it.
Carriers set prices for handsets, so PalmOne would not say how much the Treo 650 will cost. But typically high-end handhelds such as the Treo 650 cost in the $500-$600 range, especially if the purchase doesn't accompany a new account.