This week Intel begins in earnest its push to establish what it sees as one of the PC industry's next big things: BTX. Balanced Technology Extended replaces today's aging ATX (Advanced Technology Extended) motherboard and chassis specification, and Intel says it will lead to cooler, quieter, and more efficient PCs of all sizes.
Intel has been promoting its BTX specification for some time now, and a handful of PC vendors have started shipping BTX-based PCs. This week, the chip giant is rolling out its first two retail BTX motherboards. The company expects partners such as AOpen to begin shipping new BTX cases in the coming weeks (a BTX board won't fit in one of today's standard ATX cases).
Intel's BTX motherboards come in two flavors: Digital Home (model BOXD915GMHLK) and Digital Office (model BOXD915GMHL). Based on Intel's 915G chip set, both boards include the same core features, such as integrated graphics and PCI Express support. The Digital Home board will include advanced audio options and IEEE 1394 (FireWire) support; it will sell for about $138 to $148 at retail. The Digital Office board includes gigabit ethernet and RAID support; it will sell for about $120 to $130 at retail.
Sounds great, right? Well, in many ways BTX is pretty cool--after all, who doesn't want a quieter PC? But after talking with industry insiders, I get the feeling that the only companies that are excited about BTX so far are Intel and close partners like Gateway, which sells a BTX system.
A Module in Your Pocket?
PC World first covered BTX in the January 2004 issue, in a story about future technologies. Writer Seán Captain gave a fairly simple and straightforward description of the technology, and it's worth a read.
The short version of BTX's evolution, as told by Intel, goes something like this: Today's ATX specification has served the industry well; but as it approaches its tenth year of service, it's beginning to reach the limits of its thermal capabilities. With heat-producing components like the processor, video card, and memory spread out across the motherboard, the only way to effectively cool the system is to introduce more and more fans, which increases the noise level and adds cost.
Plus, due to the way air flows in today's ATX cases, there are inherent limits to the amount of cooling that can take place. According to Intel executives, within the next few years CPU fans would not be able to sufficiently cool the processor, which means vendors would have to move to liquid-based cooling systems that are more complicated and expensive.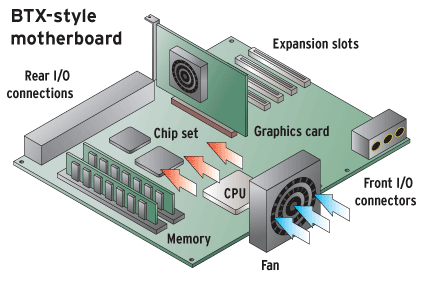 Craig Randleman, Intel's BTX technical lead, says a BTX motherboard better situates its internal components so that a single system fan can cool the elements that produce the most heat. (For example, the CPU is in the front of the chassis.) By using one large fan, and heat sinks on your CPU and other hot-running chips, you can more efficiently cool the whole system. In fact, with the exception of the power supply's internal fan, you don't need any additional chassis fans at all.
The new heat-sink-and-fan combination is officially called a "Thermal Module." Beginning this week you'll be able to buy a handful of Pentium 4 processors with either a standard heat sink or one of these modules. At launch Intel will offer only a Type 1 Thermal Module, designed for use in medium to large systems; a Type II Thermal Module, for smaller Shuttle PC-sized systems, will come later. Intel says initially there will likely be a small premium for processors with the BTX package over processors with the standard heat sink and fan.
There are actually three BTX motherboard variants, differentiated by their size and number of PCI Express slots. PicoBTX is the smallest, with a single slot; MicroBTX has up to four slots; and BTX has up to seven slots. Intel's first boards support the MicroBTX standard. The company will roll out BTX cards next, with PicoBTX pulling up the rear sometime next year.
What the BTX Is That?
I recently got my hands on an Intel reference kit containing the BOXD915GMHLK MicroBTX board, a BTX-ready Pentium 4-550 processor, and an early BTX chassis from AOpen. The thing that most struck me about the whole setup was the Thermal Module: It's huge, roughly 4 by 4 by 5 inches; and it's heavy, nearly 3 pounds.
In addition to the 90mm fan on one end of the module, there's a monstrous heat dissipation contraption that looks like a series of mini CDs with a copper post running through them. The weight and bulk of the Thermal Module--and the way the chassis has integrated additional weight-bearing support so it won't crush the CPU--certainly lend credibility to claims by some that Intel's push for BTX has more to do with the P4 processor's heat problems than with pushing the industry forward.
Advanced Micro Devices has no immediate plans to offer a BTX-ready Athlon 64 chip, according to spokesperson Damon Muzny.
"We know that the other fellows have a product out there that is not as thermally efficient as ours, but with the Athlon 64 we're fitting just fine within the ATX thermal envelope."
That said, Muzny notes that AMD won't ignore BTX forever. "When the industry moves to a new standard we're not one to buck that standard. We'll work with the industry and with our partners to do what's best for customers."
No Rush to BTX
AMD opting not to offer early support for Intel's latest initiative isn't all that unusual. But I talked to a handful of motherboard vendors--including Asus, MSI, and Soyo--and none have plans to offer a BTX product at retail before the second quarter of 2005.
Even AOpen, which provided the BTX case for Intel's reference kit, isn't sure about BTX's immediate future. According to spokesperson Fred W. Gillaspy, the company is taking a wait-and-see attitude about the standard.
"Although AOpen has been working on BTX designs with the idea of providing improved thermal solutions, at the present time the movement in that direction has backed off," Gillaspy wrote in an e-mail message. Gillaspy adds that the company once planned to ship BTX motherboards by the second quarter of 2005, but it no longer expects to follow through with that plan. (Editor's Note: After the publication of this column, AOpen contacted PC World to further clarify its position on BTX. The company maintains that Gillaspy's comments were erroneous, and via e-mail a company spokesperson said, "AOpen is not 'backing-off' on its development and promotion of the BTX form factor and, in fact, is aggressively moving forward with it in unison with Intel's efforts.")
Even Intel seems to be stepping lightly into the BTX rollout by offering just two boards at launch. And those boards--with their integrated graphics and support for DDR instead of DDR2--are clearly for mainstream home and office users instead of performance-minded system builders.
If you've been holding off on building your next PC in anticipation of moving to BTX, you might want to rethink that plan. It could be some time before the new standard makes real sense over ATX--and even longer before you can find all the parts necessary to do the job.