PDA Pundit: Where the (Palm OS) Apps Are
Ask fans of Palm OS-based handhelds why they prefer Palms to Pocket PCs and you typically get one or more of the following responses:
I don't like Microsoft.
The Windows Mobile (or Pocket PC or Windows CE, depending on the last time the Palm aficionado played with a Pocket PC) operating system is needlessly complex.
There's much more software available for the Palm OS.
I'd like to talk a bit about answer number 3, the wealth of Palm software. This is not a myth: At this writing, PalmGear.com, the online store for Palm products, reports receiving more than 25,300 apps to date; its sibling store for Pocket PCs, PocketGear.com, has logged in 15,400 apps. The days when Palm apps outnumbered Pocket PC apps by three to one are long gone, but Palm apps are still far more plentiful.
Passionate Experts
So where is all this wonderful Palm software, and what does it do? You can, of course, head to PalmGear.com or Handango. You could even go to the Software Store at PalmSource, the keeper of the Palm OS--but the store is just a repackaged version of PalmGear.com. These online retailers provide tools for seeking specific apps or browsing whole categories.
But there's a more helpful and interesting source of information about applications on the PalmSource site: Click the How-To... tab and you'll get to a page that lists guides to Palm software in a couple dozen categories. I've noted this resource in the past, but this month I finally got around to taking a closer look.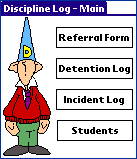 The categories are organized by interest, by profession, and by task--and they're assembled by "passionate" outside experts. So, for example, a teacher can check out education consultant and professor Jeff Zwiers's guide to Palm apps for teachers, which range from lesson-plan creators to grade books and something called "Suite for Teachers" that includes an app for randomly choosing a student to answer a question in class. It makes you wonder how they ever decided whom to call on in the old days.
For those receiving rather than dispensing education, there's also a guide to software for students by Jen Edwards, self-described "longtime student" and editor of PocketGoddess.com (a Web site with Palm--and some Pocket PC--reviews, news, and forums).
For Aviators and Anesthesiologists
Other guides cover software for doctors, dentists, engineers, lawyers, med students, pilots, psychologists (including a tongue-in-cheek virtual psychologist app called Eliza), realtors, salespeople, and writers. The list of interest categories is even more diverse, including guides for ham radio operators, food and wine lovers, film buffs, genealogy enthusiasts, pet lovers, and scuba divers. There are even guides to software for three religions: Christianity, Judaism, and the Church of Jesus Christ of Latter-day Saints.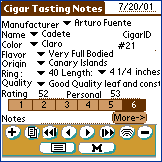 I was intrigued by the Cigars and Liquor guide by William Hungerford, who describes himself simply as a "Cigar and Fine Spirits Aficionado." (Well, what other qualifications would he need?) How much software could there be about cigars? It turns out that he came up with seven apps, mostly little databases for people to note down their cigar smoking experiences or to look up information about cigars.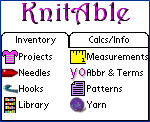 Then there's Jaya Srikrishnan's Knitting guide. All of these guides begin with a short essay by the expert about their interest in the category and in Palms. Srikrishnan's exemplifies the obvious enthusiasm of most contributors: "I am a software engineer, a wife and a mother but long before I was any of these, I was a knitter," she writes.
The guide has only three knitting-specific apps, but that didn't discourage Srikrishnan: Her guide includes instructions on how to adapt general Palm apps for use by knitters. Did you know you could download knitting fonts created for Windows, convert them for use on a Palm device using an app called FontBucket, and then use them on a Palm to create knitting patterns in a spreadsheet? The guide tells you how, and then lists several spreadsheet apps for Palms.
Going a bit further afield, Srikrishnan reviews a couple of mapping packages for Palms with or without GPS. After all, she reasons, "knitters are always on the lookout for yarn stores and other interesting fibre places to visit on their travels."
Not Just Software
Okay, so mapping software in a knitting guide may be a stretch--but that's part of the charm of the PalmSource guides. They're very personal. Most aren't limited to listing Palm software you can download and buy (or get for free); they also include links to pertinent e-books and Web resources, and, in some cases, hardware. Some also include anecdotes from people (besides the guide author) who have used Palms in the profession, interest, or task covered by the guide.
Check out PalmSource's Expert Guides: Odds are you'll find one or more that will tickle your fancy--and maybe even move you to beef up your Palm software collection.
Shop Tech Products at Amazon