Gasoline and milk aren't the only things that cost more these days. The cost of keeping your antivirus software current has been rising, also.
But while leading antivirus software vendors Symantec and McAfee have been hiking annual subscription fees for stand-alone products, they've kept those charges flat for product suites that bundle antivirus utilities with firewall, intrusion-detection, and spam-control software. The idea is to encourage customers to move over to these suites.
Fast-Rising Fees
Last fall, for example, Symantec increased to $20 the price that Norton AntiVirus and Norton SystemWorks owners must pay for an annual subscription to antivirus-definition and software updates. The $5, or 33 percent, increase over last year's renewal fee followed similar increases in previous years.
However, the annual cost of updates for the company's Norton Internet Security suite remained at $30, merely $10 more than the renewal fee charged for the stand-alone antivirus product. (Norton Internet Security retails for around $70, compared with $50 for Norton AntiVirus.)
"We wanted to provide an attractive price differential with Norton Internet Security and to encourage customers to move up," says Laura Garcia-Manrique, product management director for Symantec's consumer group.
McAfee officials say they want to encourage adoption of their $70 Internet Security Suite, as well. McAfee charges $20 for yearly subscription renewals to its $50 stand-alone VirusScan package, and $30 for Suite renewals.
Both companies say the price hikes are the result of an increasingly dangerous computing environment.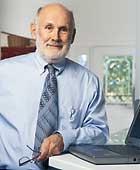 McAfee says renewal rates for VirusScan subscriptions are over 80 percent. But at least some people are choosing to upgrade to new software instead.
Sidney Starobin, a retired pediatrician from Mashpee, Massachusetts, paid only $30 to upgrade his old copy of Norton AntiVirus 2002 to the current Norton AntiVirus 2005 software--that's just $10 more than it would have cost him to renew his antivirus definitions for the older software. "They really try to get you to buy a $70 product [Norton Internet Security 2005]," Starobin says.
Suite Deals?
But upgrading to a security suite may not be the best course for most people. We've discovered that such suites generally offer inferior protection to that provided by best-of-breed stand-alone applications. And budget-conscious computer users can easily obtain good, no-cost firewalls and spam-fighting utilities.
Competition may eventually drive down antivirus prices. Microsoft bought antivirus technology from Romanian company GeCad Software SRL in June 2003 and has said it intends to enter the market.
The message for PC users: Shop around--and don't let software vendors pressure you into getting a suite.