Internet Security Suites Face Off
At a Glance
Symantec Norton Internet Security 2005 (Full Product, PC)

Trend Micro PC-cillin Internet Security 2005

McAfee Internet Security Suite 2005
The perils of PC use have changed significantly since the term computer virus was coined in 1983. Today's threats range beyond simple viruses to Internet-born worms, Trojan horses, and spyware.
I tested three of the latest Internet security suites--from McAfee, Symantec, and Trend Micro--to see whether their latest enhancements offer the necessary level of protection against today's threats.
Trendsetter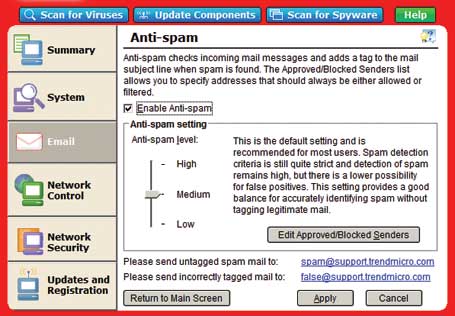 Trend Micro's $50 PC-cillin Internet Security 2005 continues to impress, building on the solid antivirus, firewall, and spam protection of its predecessor (which earned a PC World Best Buy award in June 2004). The 2005 edition offers a slew of new features, including Wi-Fi intrusion detection, protection for multiple PCs on a home network, vulnerability assessment that lets you know whether your system lacks an important security patch, and an anti-phishing component.
The suite's port-based firewall automatically blocks unsolicited inbound attempts, and detects and blocks both inbound and outbound malicious traffic. The firewall stealthed (rendered invisible) all of our computer ports, ensuring that we were virtually undetectable on the Internet.
Unlike viruses, spyware often installs itself directly via the Windows Registry; ferreting out its offending keys and values requires a content scan of the Registry. All three of the suites claim to fight spyware, but in our tests only Trend Micro's suite spotted spyware infections in the Registry.
Symantec Steps Up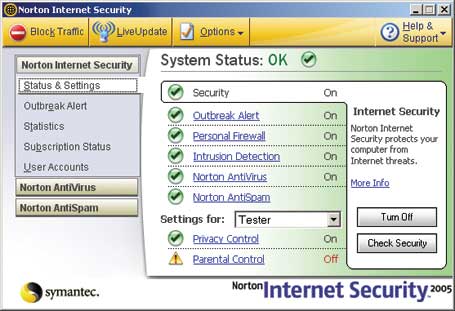 Symantec has improved its $70 Norton Internet Security 2005 with better overall performance, and a faster scan speed in particular. The suite pumps up protection against Internet threats--blocking inbound traffic on ports associated with certain worms--and also allows you to specify a list of trusted sites to better manage privacy controls.
Like the other firewalls in the suites we tested, Norton's successfully stealthed our PC ports. The suite adds permission-based features to its firewall, as does the McAfee suite. However, both products also automatically assign "allow" permissions to every already-running Windows service--including Windows Messenger, which some companies exploit as a way to serve annoying pop-up advertising directly to the user's desktop.
Norton tosses in additional spam filters, including one for Yahoo Web-based e-mail. But the program lacks some features that you'll find in Trend Micro's package, and the spyware detection is not as good as what's available from Trend Micro. In our tests, Norton failed to detect any of the active infections introduced into the Registry, though it did correctly pinpoint the files we used to infect the system.
McAfee's Web Feel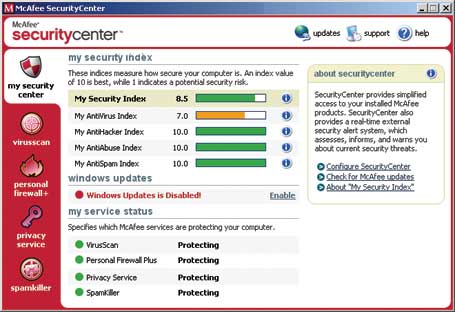 McAfee's $70 Internet Security Suite 2005 boasts a completely redone interface that, though attractive, is somewhat harder to navigate than those of the other products in our comparison. When accessing various menu items through the program interface, I was directed to McAfee.com, which delivered pop-up ads. I activated the pop-up blocker option in the suite, only to be warned that the feature might inhibit normal Web site functioning.
McAfee offers a wide array of custom spam filters, including ones that let you filter by language, block intentional misspellings, and adopt many other editable rules. The filters also home in on invisible text and images--techniques that spammers commonly use to thwart content filters.
Like Symantec's offering, the McAfee suite failed to detect the spyware entries in our test system's Registry. But unlike Norton IS 2005, the McAfee product also overlooked files we used to infect the system.
SP2 Security Center
Of the three suites we tested, only PC-cillin Internet Security 2005 worked seamlessly with the Security Center in Microsoft's Windows XP Service Pack 2. The new Security Center tracks antivirus software and warns the user if it is not installed or is outdated.
We tested all three suites on a system running XP Service Pack 2, and only when the PC-cillin suite was installed did the Windows Security Center correctly reflect the fact that the product needed updating. With Norton Internet Security 2005 and McAfee Internet Security Suite 2005 installed, the Windows Security Center erroneously reported that the products were up-to-date. (For more about erroneous reporting, see our online report.)
Trend on Top
All three suites we tested showed improvements over last year's packages. Full antivirus testing is beyond the scope of this review (watch for such tests in a future issue), but our hands-on evaluation points to Trend Micro's PC-cillin Internet Security 2005 as the clear winner here. In addition to a full arsenal of easy-to-use tools, the company's latest package sells for a lower price than the competition (though many retailers offer all three suites for less than their list prices), and it comes with free, toll-free phone tech support. In a world of rapidly evolving threats, it's reassuring to have a product like this on your side.
At a Glance
Symantec Norton Internet Security 2005 (Full Product, PC)

Trend Micro PC-cillin Internet Security 2005

McAfee Internet Security Suite 2005
Shop Tech Products at Amazon