Bluetooth? FireWire? USB? They're all different, but they all do the same thing: connect devices to your PC. Each of these technologies has pluses and minuses, as well as old and new versions (see the chart below). When you choose your next mouse, keyboard, or other peripheral, make sure that it has the right connection for your system, and your needs.
Bluetooth on the Rise
You can expect to see more Bluetooth devices in stores and on Web sites in 2005--and not just keyboards, mice, and PDAs. A survey by market research company InStat/MDR found that people are considering Bluetooth stereo headphones for their desktop computers, notebooks, MP3 players, PDAs, and mobile phones, among other consumer applications.
Think of Bluetooth as a wireless, low-bandwidth version of USB. Simply pop a tiny Bluetooth hub such as Belkin's Bluetooth USB Adapter (see FIGURE 1

Figure 1: Adding a USB Bluetooth hub such as Belkin's USB Adapter to your PC is a snap, literally.

) into your PC's USB port to connect up to seven devices wirelessly. But Bluetooth doesn't replace the Wi-Fi 802.11b or 802.11g standard: It moves data at only 1 mbps, while Wi-Fi is up to 50 times faster. Also, you can't use Bluetooth to connect to the Internet.
Wi-Fi and Bluetooth operate in the same 2.4-GHz frequency band. The two types of devices have been known to step on each other's signals, slowing down both. But I've run into noticeable slowdowns only when my wireless router was less than a foot away from my Bluetooth mouse and keyboard. (Cordless phones that run at 2.4 GHz, on the other hand, have slowed my Wi-Fi network to a crawl from across the room.)
The latest Bluetooth release, version 1.2, attempts to remedy this problem by using Adaptive Frequency Hopping (AFH) to continually direct and redirect the Bluetooth signal to unoccupied portions of the 2.4-GHz band. Belkin and Logitech expect to have Bluetooth 1.2 products available by the time you read this. Bluetooth 1.2's AFH should reduce signal conflicts, but there's no guarantee. If you already have a Wi-Fi network in place, play it safe and check the return policy for any Bluetooth product before you buy it.
If you really want a wireless keyboard and mouse, but you also want to keep your existing Wi-Fi network, consider a mouse/keyboard combo that uses a 27-MHz radio-frequency connection. RF products don't have the range of Bluetooth, but they've been around for years, and I've found them very reliable. They cost less than their Bluetooth counterparts, too. Among the companies that sell RF keyboards and mice are stalwarts Logitech and Microsoft.
FireWire versus USB 2.0
If you need to move lots of data quickly, choose a device that uses a FireWire connection. Theoretically, USB 2.0 can run at up to 480 mbps, whereas FireWire 400 (also called IEEE 1394 or I.Link) tops out at 400 mbps. But in my experience with external hard drives--and in the experience of others--FireWire links are noticeably faster than USB 2.0 links.
Some external hard drives support both USB 2.0 and FireWire standards. Maxtor's OneTouch series is one prominent example. But until recently only a handful of PCs came with FireWire capability built in, so you may need to add a FireWire adapter such as Adaptec's $40 FireConnect 4300. FireWire connections are increasingly available on new PCs, particularly high-end models. Except for bargain-basement units, most new notebooks also have FireWire 400 ports.
The first consumer devices equipped with USB On-The-Go ports are showing up on store shelves. USB OTG allows devices such as MP3 players, cell phones, and PDAs to communicate with each other even when not plugged into a PC. USB OTG uses less power and has smaller connectors than standard USB, but adapters will allow you to connect USB OTG-equipped devices through the existing USB ports on your PC.
To save every download second, get a hard drive and adapter that support the new FireWire 800 standard, aka IEEE 1394b. FireWire 800 reportedly doubles data throughput to 800 mbps. Early PC World tests using a single FireWire 800 hard drive revealed that the new connection is faster than both FireWire 400 and USB 2.0, though it's nowhere near twice the speed of a FireWire 400 drive. Few FireWire 800 products are on the market, but LaCie offers hard drives and the adapter card needed to connect the drive to a PC.
Ubiquitous Serial Bus
The Universal Serial Bus is the PC connection of choice. Practically every computer supports it, and almost all peripherals use it. Here's what to consider before you buy:
How much speed will I need? USB moves data at low speed (up to 1.5 mbps), full speed (up to 12 mbps), or high speed (theoretically, up to 480 mbps). USB version 1.1 supports low and full speeds, while USB 2.0 adds high-speed capability. If you're eyeing a USB external drive or other high-bandwidth device, make sure your PC supports USB 2.0.
What USB version does my PC support? If your system was made in the last three years, it likely has USB 2.0 ports. But if you haven't updated your version of Windows XP or 2000, you may not have the proper USB 2.0 drivers. To find out which version of USB your PC uses, right-click My Computer and click Hardware,Device Manager (in Windows XP and 2000), or right-click My Computer and click Device Manager (in Windows 98 and Me). Scroll to and double-click Universal Serial Bus controllers. Right-click one of the controllers listed and click Properties. If you see a listing for 'USB2.0' or 'Enhanced', you have USB 2.0 (see FIGURE 2

Figure 2: Check your system's Device Manager listings for 'USB2.0' or 'Enhanced'.

). If not, update your version of Windows and add USB 2.0 drivers. For more information, read Microsoft Knowledge Base Article 329632.
If you can't get your desktop system to support USB 2.0, add a USB 2.0 PCI adapter card instead. Keyspan's USB 2.0 Card costs around $30 and has drivers for Windows versions 98 and up. If your primary system is a notebook, you're almost certainly stuck with its original USB interface until you trade it in for a newer machine.
Does my PC have sufficient power? If you already have several USB devices connected to your PC, you've probably discovered the joy of a USB hub. These devices expand a single powered USB port (not a nonpowered hub, like those found on some keyboards or monitors) into four or even eight separate USB ports.
Your USB hub may not provide enough power for all the devices connected to it, however. Printers, scanners, and many other USB devices provide their own power, but some are powered only via their USB connection. If the hub can't meet the devices' cumulative demand for power, the USB bus may shut down.
To avoid a USB brownout or blackout, use a self-powered hub. As its name implies, this type of hub plugs into a wall socket and draws its own electricity. The other type of USB hub, the bus-powered hub, offers only about one-fifth as much power. See my March 2002 Hardware Tips item, "For Fast, Easy Computing, USB Is the Bus to Ride", for more on USB hubs.
Make the Hardware Connection
Be sure you're using the most suitable bus to link external devices to your PC.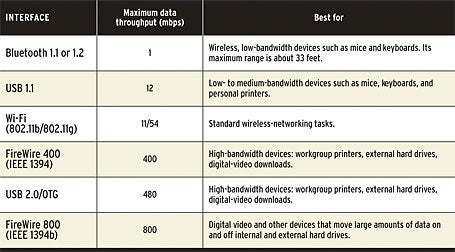 Get a Better Grip
Does your laptop look great? Then watch out: That shiny notebook case is also a slippery case. Few events can end your laptop's life faster than a sudden drop onto a hard surface. If your notebook is slipperier than buttered soap (or if you suffer from old-fashioned fumblefingers), there's an easy way to keep your system well in hand. Simply place a few strips of 3M's Safety-Walk nonslip tape--decoratively--on both sides of the notebook's case. The tape has a bumpy, grippable surface that resists sliding through clumsy fingers or sweaty palms. Safety-Walk tape is available at hardware stores for approximately $10.