Download This: Top Download Picks of 2004
After thirteen columns, it's time to take a look back at the forty-odd files I reviewed in the first year of Download This. Some programs, though nifty, didn't see regular use on my own PC. Here are the ten files I worked with the most--and some thoughts about what kept other files down. Most of the top downloads are free, and all but one of the paid programs offer a free trial.
The Cream Rises to the Top
Some programs are so undemanding, so useful, or so entertaining that I use them daily.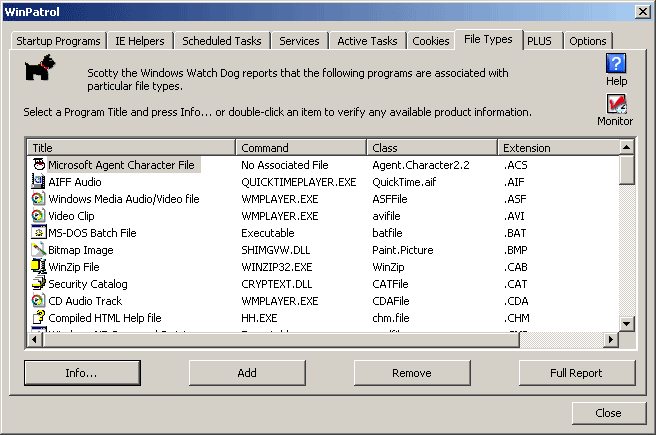 A Winner on Patrol: It's important to run various security programs from time to time, but guarding a PC's perimeter is a round-the-clock job. WinPatrol's mascot, Scotty the Windows Watchdog, barks sharply the moment a program behaves like spyware. Free; WinPatrol Plus service gives more detail about detected programs for a $20 one-time fee.
I'm not faking a Jamaican accent: CoolMon sits quietly on the desktop, keeping count of what matters to a PC's health. When I need to see how much RAM is left, or how much more I can reasonably ask of the processor, I just glance at the little CoolMon window on my desktop. I also configured CoolMon to hold my IP address, which I'm likely to forget without the tool's help. Free.
Communications nexus: Universal messengers abound, but QNext is more than an instant-message aggregator. With its zones, I can launch photo-sharing sessions, games, and other features without opening yet another window--and isn't exasperation at having too many windows what drives people to universal IM clients? Free.
Captured! SnagIt is the silent power behind the screenshots you see in this column. I've also cut down on my tech support turnaround times by sending in SnagIt captures of error messages. Free trial; $40 to keep.
Worth more than a cursory glance: Now that I have CursorXP installed and a bright cursor with a drop-shadow chosen, it's much easier for me to find the danged thing on the desktop. I didn't enable the candy cane cursor for the holidays, but isn't it nice to have the option? Free.
Because the difference between a teaspoon and a tablespoon can wreck a recipe: Hardly a day goes by without my needing to translate a temperature, an amount of memory, or a kitchen measure into terms I understand. Convert comes to the rescue, dishing out the correct conversions. All consumers of this column and my cooking, be grateful. Free.
Make Googly eyes at Firefox: From the download numbers, it appears that many of you love the Google Toolbar Internet Explorer add-in, which lets you run Google searches without heading to Google.com. I've become a fan of its Mozilla equivalent, Googlebar--especially since the latest version works with Mozilla Firefox 1.0. Free.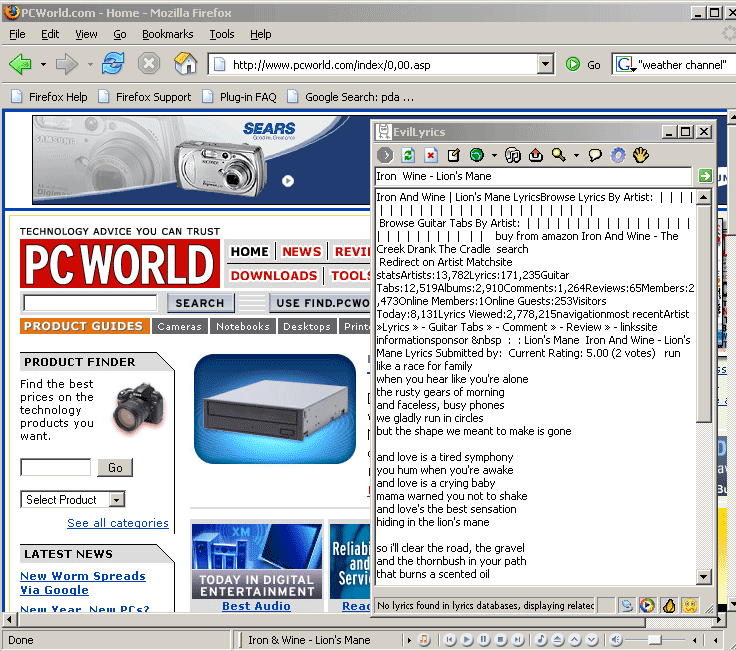 Tune in to Firefox: FoxyTunes lets me control my media player from within Firefox. I always have a browser window open, and there's no need for Windows Media Player (or any of the many other players FoxyTunes supports) to take up extra space. Free.
It only sounds evil: When the lyrics to a haunting tune are unintelligible, it drives me bats. EvilLyrics clears out my belfry by finding lyrics as the songs play on my PC. With a skin downloaded from its creator, EvilLaboratories, EvilLyrics works with Windows Media Player--even when I'm using WMP through FoxyTunes. Free.
Shoot for the stars: As much as I enjoy the puzzle games Zuma (see my colleague Yardena Arar's Game Room for more on this game) and Bejeweled, my favorite of the PopCap Games is AstroPop. With its kitchy characters, Space Invaders-like play, and sassy backtalk, AstroPop pours on reasons to stay and play. The infectious music has me bouncing in my chair instead of sitting in the same position for hours. Yes, you can play for hours. Free to try; $20 to unlock the full game.
Programs That Deserve Better
I find myself using these programs only occasionally--but boy, do I appreciate them when I need them.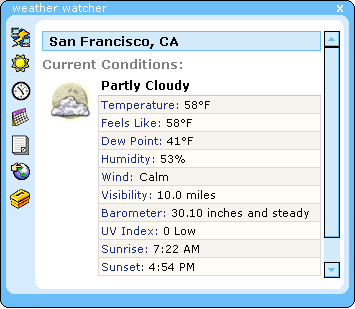 Whichever way the wind blows: Unlike my dad, I don't watch The Weather Channel for fun. There's a season for everything, though, and Weather Watcher is a big help during the precipitation-dumping ones. Free.
Where there's a will...: Quicken WillMaker Plus 2004 is a powerful tool, and its gentle questions made thoughts of my own demise less frightening. I'll seek out its company only once per year or life-changing event, though--and since estate laws change, maybe it's better to buy a new version whenever one comes out. It's all about being prepared. $50.
Come on, look me in the eye: Video messenger SightSpeed has great lip-sync capabilities and is easy to learn, but it requires at least one other person with the program and a Webcam. Maybe SightSpeed's current free-Webcam promo will bring more of my friends, family, and associates within eyeshot. Free for 15 minutes per day; several pricing plans for more time.
Exploring Elsewhere
As you might have guessed from the recommendations above, I'm now using Firefox as my primary browser. Several useful browser shells and add-ins didn't make this final list because they work with Internet Explorer only. Two fine IE shells, the tabbed Maxthon (formerly MyIE2) and the vigilant Secure IE 2004, may improve your IE experience and security.
I sometimes miss the neatly categorized search results from Dogpile Toolbar, plus the enhanced Googling of LostGoggles (formerly MoreGoogle). And I'd love to keep virtual files of Web pages with SurfSaver--but all of these tools require IE. Perhaps 2005 will bring Firefox versions of these favorites.
Shop Tech Products at Amazon