Latest Corel Painter Update Keeps It Real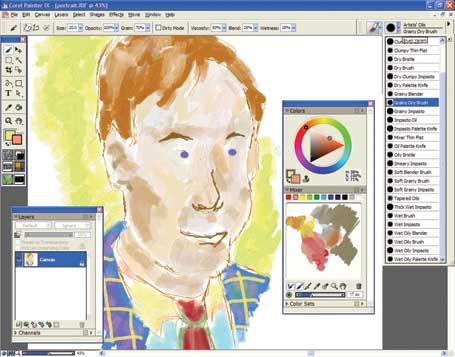 For 13 years now, Corel's Painter has been proving that digital art doesn't have to look, well, digital. And Painter IX shows that a venerable package can still learn new tricks. I tested a shipping version of this worthy upgrade.
As always, Painter's natural-media art implements, from watercolor brushes to felt-tip pens, produce uncannily realistic results--and the new Artists' Oils are the program's most sophisticated tools yet. You can load up a brush with oil paints that you've mixed yourself and then lay down a brushstroke that slowly dries.
Other refinements in this version include watercolors that stay "wet" even when you save a painting and come back to it later. Corel also has enhanced performance by up to 1000 percent, so that working with the virtual art supplies feels even more lifelike.
Mastering Painter still takes time, but Corel made a few smart tweaks. For instance, cloning, which lets you paint over a photograph, now takes one step instead of five.
At $429, Painter isn't cheap,and the complete package costs $130 more than version 8 did. You also need a pen tablet such as Wacom's Intuos 3 to fully explore its potential. If you're a serious artist, this ingenious package is a rewarding investment in your creativity.
Corel Painter IX
Corel's classic natural-media paint program gets even more powerful and imaginative.
List: $429, $229 upgrade
Current Price (if available)
At a Glance
Corel Painter IX

Pros

Interface improvements
Excellent Snap-to-Path feature
Sophisticated new oil brushes
Dramatically better performance than that of previous versions

Cons

Weak history feature
Steep upgrade price
No 16-bit-color support
Shop Tech Products at Amazon