capsule review
Hyundai ImageQuest L70S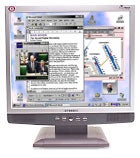 With its well-marked buttons, the attractively priced ($299) Hyundai ImageQuest L70S looks like simplicity itself. It allows no physical adjustments other than tilt and accepts no digital input. Its speakers emit sound passably, but they also hiss. In addition, the headphone jack, situated on the back of the unit, is easy to miss. Still, the absence of advanced controls wouldn't be a problem for general users if the images were excellent--which brings us to the sticking point.
The L70S earned the lowest quality scores we've awarded recently on all three of our text test screens: Our jury was especially disappointed by spidery text, which crippled the L70S's ability to display our test Web page and resulted in the lowest score on that graphics test as well. The L70S received a tepid rating of Good for both text and graphics and earned the lowest overall image-quality rating in our current batch of 17-inch LCDs.
The Hyundai ImageQuest L70S's uninspiring image quality and lack of features leave this model with little to recommend it.
Hyundai ImageQuest L70S
17-inch screen, 1280 by 1024 native resolution, 8.4 pounds, one 15-pin analog input, 16ms pixel response time. Three-year warranty (including the backlight); 8-hour weekday toll-free tech support.
$299
408/232-8654
www.hyundaiq.com
Laura Blackwell
At a Glance
Hyundai ImageQuest L70S

Generous pixel policy and a low price can't make up for this analog-only model's poor image quality.
Shop Tech Products at Amazon