Net Phone Zone: Lingo Is Affordable and Reliable
Okay, I'll admit it: I'm a phone-aholic. At work or at home, I'll pick up the phone at the drop of a hat, rather than whisk off an e-mail--or respond to one. (Whether the poor souls at the other end are happy to hear my squeaky voice is another story. "What, you again?")
So when I first started using Voice over Internet Protocol services many years ago, I was thrilled at the thought of paying less for long-distance calls. But alas, I was dismayed by how lousy the whole experience was: Back then, you hooked up a microphone to your PC and called somebody else who was also perched at their PC, mike at the ready. Dropped calls, garbled sentences, and annoying echoes were the name of the game.
Fast-forward to the present day, and a new breed of Internet phones has started to make a lot of noise. Services from companies such as AT&T, Vonage, and VoicePulse let you use a conventional phone and dispense with the PC--all you need is a phone adapter that connects to a broadband router or modem. Call quality with these new services has improved to the point where traditional local and long-distance phone companies are truly getting a run for their money.
In Net Phone Zone, I'll keep you posted on the latest developments in the VoIP world, put various Internet phone services through their paces, check out new hardware products and trends, and look at how government regulations will (or won't) impact these new services. There are some gotchas associated with Internet phones, and I'll offer tips and tricks to help you cope with them.
I'll start by reporting on my experience with a service called Lingo by Primus Telecommunications, a relative newcomer to the scene.
Testing Lingo
Like any phone lover, when the price is right, I am all over any calling plan that promises things like "unlimited calls" or "anytime minutes." Primus's plans range from some of the cheapest available, starting at $8 a month (with restrictions), all the way up to more comprehensive corporate plans costing as much as $100 a month.
As soon as you sign up, Primus sends you its free phone adapter, which is roughly the size of a small answering machine. Setting up the Lingo service was straightforward, but it took longer than I expected. Using the provided cables, I connected the Primus hardware to my router and my analog telephone. The process involves switching your router and/or modem off and on, and waiting for all of the hardware to reboot.
The first time around, the installation didn't work: I didn't get the required dialing tone, so I couldn't make any calls. I started over, connecting the adapter to a different port on my router. Bingo--I was in business. The installation should take about 15 or 20 minutes, if all goes well; in my case, it took about an hour. Primus's tech support wasn't able to identify exactly what caused the problem; but in any case, the phone worked fine after the second try.
Lingo was not available for testing when we last did a comparative review of leading VoIP services. When I used Lingo to make more than four dozen calls to both U.S. and European numbers, though, I found the overall quality to be excellent. I didn't experience any dropped calls or echoes. And Lingo was much more dependable than the typical cell phone service. However, on a couple of occasions, I ran into busy signals (for example, when I was checking voice mail). When this happened, I tried the call again after 5 minutes--and the problem went away. Plus, I noticed a very subtle difference between calls made using Lingo and the average landline call: The Lingo conversations sounded slightly muffled, as if there were a layer of cling wrap in between my voice and the voices at the receiving end. This effect can crop up with Internet phone services in general. That said, all the conversations that I had were clear and nobody at the other end could tell that I was calling over the Internet.
Lingo is right up there with other reputable services.
Features and Prices
When you sign up for service at the Lingo site, you can choose the area code to be assigned to your phone from the 220 that the company offers. If your area code is among them, and you decide to ditch your landline phone service completely, you can transfer your old number to your Lingo phone.
Lingo offers voice mail and other features such as speed dialing, call forwarding, caller ID blocking, 911 emergency service, and 411 assistance (at 75 cents a pop). As with other VoIP services, including BroadVoice and Vonage, you can manage and customize your Lingo account and voice mail settings online.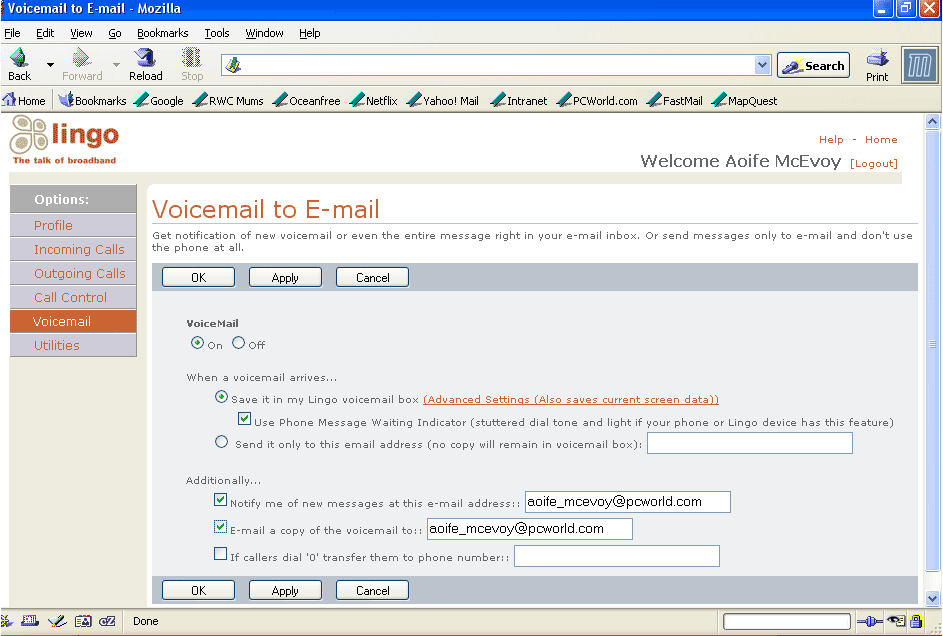 For example, I configured the voice-mail options so that I could receive voice messages as .wav file attachments via e-mail. Lingo makes this super-easy. There was no lag time; judging by the time stamps, I received the e-mail triggers almost immediately after my callers left their voice messages. If your caller doesn't have caller ID blocked, the .wav file name includes the phone number, so you know whom the message is from--very handy if you're on standby for an urgent message.
For $8 a month, you can call anyone else who subscribes to Lingo as often as you like; when you call nonsubscribers, you pay 3 cents a minute if you're calling U.S. or Canadian numbers, more if you're calling overseas. For $15 a month, you get 500 minutes of unlimited calling to the U.S., Canada, and Western Europe (including Italy, Germany, France, Finland, and the UK, for example); for just $5 more per month, you get unlimited calling to these zones. Both of these plans include calls to nonsubscribers at no extra cost. Business plans start at $50 per month.
Note: The $15 and $20 monthly subscription plans let you call landline and cell phone numbers in the U.S. and Canada. In Western Europe, the monthly fees cover landline numbers only; separate per-minute charges apply. Calls to UK cell phones, for instance, start at 42 cents per minute. A very reasonable $35-a-month Asian plan lets you make unlimited calls to landline numbers in Australia, China, Hong Kong, Japan, Malaysia, New Zealand, Singapore, South Korea, and Taiwan--that's a huge coverage area.
As of this writing, Primus is offering one month of service for free; but unlike some VoIP providers, the company adds on extra charges. You pay a $10 shipping fee and a $30 activation fee after you sign up for the service.
Judging from my limited testing of Lingo's service, it's worth considering if you're interested in saving money on your long-distance or international calls. You don't have to ditch your local phone company. In fact, it's often a good idea to hold on to your landline because you can't make calls if your broadband service goes down or if you have a power outage.
Also, if you rely on your cell phone for all of your calls, it can get extremely expensive--and here's where a service like Lingo could make sense. Primus's $20 package is a terrific deal, especially if you have friends or relatives in Western Europe. (Vonage's comparable plan, at $25 per month, only includes unlimited calling to the U.S. and Canada.) If you decide give Lingo a whirl, you will get your money back if you cancel within 30 days.
For general advice on VoIP services and some help with decision making, check out "Is an Internet Phone Right for You?."
Shop Tech Products at Amazon