Mac Skeptic: Productivity Apps Get the Apple Treatment
When you learn how to do something the hard way and then a new tool makes the same job easier and more fun, it's very tempting to play the purist and insist that the new way can't be as good. That's how I was tempted to react last month at Macworld Expo when Apple debuted IWork '05 ($79), an update of its Keynote presentation program packaged with a new word processor called Pages.
Slick Layouts With Pages
Pages' big selling point is that it makes it very easy to produce attractive, complex documents--without knowing your way around a layout program--because the design is already there for you. All you have to do is put in your own text and images.
My inner codger popped up immediately: "Back in my day, we had to lay out pages with paper and a pica ruler!" In fact, the first quip that came to mind was "This is Apple's full employment act for graphic artists." But even though I can make Microsoft Word do pretty much whatever I want thanks to years of trial and error, I believe Pages shouldn't be dismissed as just pretty fluff for amateurs.
Those graphics-rich templates are pretty impressive, as far as they go. Unlike Word's document templates, there's no mistaking how to use them: You just start typing, and drag and drop images into their boxes (links to the IPhoto library are built right in). Pages' templates have a definite home/small-business bent, including such documents as invitations, journals, reports, and family newsletters, plus marketing brochures, resumes, business letters, and menus. However, there are no templates for such mundane business documents as purchase orders, invoices, and business cards.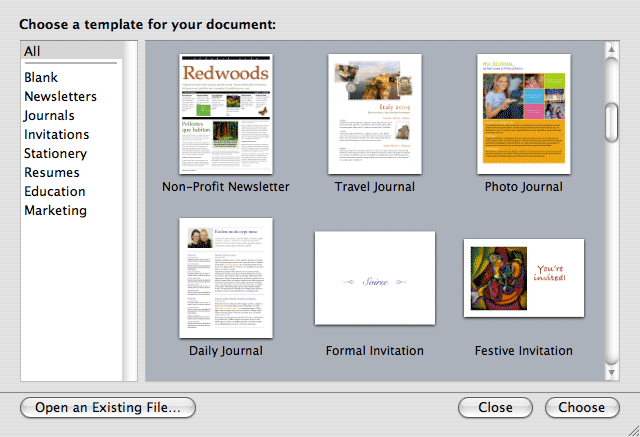 By default, when you launch the program you automatically see a browsable, graphical menu of the templates so you can choose one to base your document on. If this bugs you, you can dig into the Preferences menu and set Pages to start with a blank document. Most often, I want to start with the document I was working on last, so that would be a nice choice to have as well.
When you pick a template, a new, untitled document is created with the same opening page shown in the template thumbnail. More pages for your document, with appropriate layouts, are as close at hand as the Pages menu at the top left of the menu bar. This graphical menu's choices change based on which template you started with.
Everything in the document is an editable object. You don't have to stick with the prefabricated design, although I imagine that lots of people will never venture beyond the prefab layouts. In fact, I foresee teachers getting good and tired of seeing reports in the same Apple layout, and business letters going out with the dummy return address and logo still in place. But the envelope templates, with the address blocks correctly placed, are a great convenience. And once you have customized a document with your own information, it's easy to resave the file as a new template.
On-Screen Toolbox
If you're the type to put your own stamp on things, you'll be pleased that most of the tools you need to tweak a design are accessible from the wide menu bar across the top of the window. Four of them generate floating tool palettes. The most helpful of these is the Inspector, which has ten submenus that let you do things like control the placement and behavior of graphics, style your text, change the number of columns in your document, and add bookmarks. The other palettes hold frequently used settings like fonts and colors. I don't understand why Paragraph Styles are available from a "drawer" rather than a floating palette, but at least they're there, and you can set up your own in addition to using those provided.
I liked working with the tool palettes in Pages, which surprised me a little because when I'm using Word I usually banish the Formatting Palette. Though they are more or less the same in purpose, the Pages palettes seem less cluttered and easier to understand and use. The labels and icons are clearer, making once-difficult modifications, like bookmarking, easy to find and execute. The bookmarking feature lets you mark spots in your document that you can jump to from the Link Inspector palette. If you're working on a long document, this could be very handy. There is a comparable bookmarking feature in Word, but I didn't know it existed until working with Pages prompted me to go looking for the equivalent in Word.
The other tool in the Link Inspector, the Hyperlink tool, lets you set text as hyperlinks. Since you can export Pages documents as HTML, this is important. This palette also lets you deactivate hyperlinks in a document, so you can click on them without spawning a browser window. To prevent hyperlinks from showing up in your documents in the first place, you have to uncheck "Automatically detect email and Web addresses" in the Preferences menu.
Some Menu Browsing Required
Certainly, not all of Pages' tools are front and center on the palettes. Sometimes you have to dip into menus, the help system, or the user guide to find how to do something. For instance, since so many of the templates have artfully skewed images, I was tempted to grab one and twist it the other way--but that didn't work. And while you can grab the edge of a text or picture box and move it, you can't rotate it just by clicking and dragging. I had to consult the user guide to learn that you can rotate objects using the Metrics submenu in the Inspector; it's under the little ruler icon in the row across the top of the palette, and neither the name nor the icon is terribly intuitive.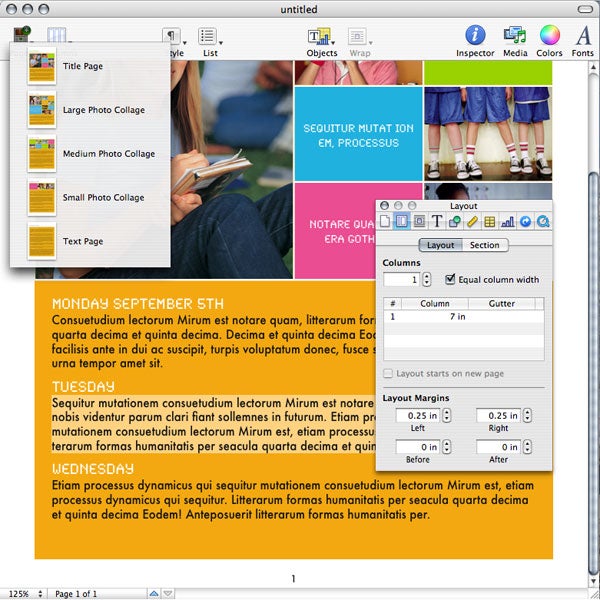 Having been trained up in QuarkXPress, one tool I miss in Pages is a document palette that would let me jump quickly from page to page and move around or delete pages from the document. It's possible to zoom out to a 25-percent view that's a reasonable approximation of thumbnails, and to specify that your pages be arranged One-Up or Two-Up; but I could not figure out how to change the order of pages once they were placed. What's worse, I couldn't specify their order when I added them to the document. By default, new pages go to the end. Lots of newsletter editors are going to need to add, subtract, or reconfigure pages in the middle of their documents, so Apple should have made this easier to do.
In addition, you can't do freehand drawing from within Pages. There are chart, table, and shapes tools, but artists will want to stick with their favorite drawing and painting apps.
Plays Well With Others, Mostly
Apple has taken pains to make Pages files compatible with other applications: You can export a file to Portable Document Format, Word's .doc format, Rich Text Format, plain text, or HTML. I found that the .doc export worked fine; everything showed up properly placed and rendered. However, Word would not open an RTF file that I exported from Pages. I could open the RTF file in OmniOutliner and Apple TextEdit, but these apps didn't show the fonts and graphics in place.
The HTML test file I made showed up in my browsers with correctly styled fonts and all their elements, but the positioning of the elements was off. Pages creates Cascading Style Sheets when it generates an HTML document, but the positioning information evidently doesn't work quite right. However, it's reasonably clean HTML code. (Graphical Web authoring tools and apps like Word are notorious for writing very messy HTML.)
So my inner codger loses this argument. Sure, there's virtue in learning to make something from scratch, but we've all wanted to get a project done without having to learn a whole new set of skills. I'll continue to build my own Web pages, thank you. If I get tapped to create a neighborhood newsletter, though, I'm likely to rely on those Apple templates without a twinge of guilt. But Apple really should release a few more nuts-and-bolts-type templates that businesspeople need.
Keynote Presentations
When Keynote was first introduced two years ago, it wasn't clear why Apple wanted to bring out a presentation application--unless perhaps the interface and aesthetics of Microsoft's PowerPoint just offended Steve Jobs too much. The original Keynote certainly had cool-looking slides, and it showed off the Mac OS X graphic engine to good advantage, but it seemed like a solution in search of a problem.
The new Keynote 2 has attractive slide templates plus lots more new designs, and it's still compatible with PowerPoint. But its pairing with Pages in IWork '05 makes its purpose a bit more clear. Presentations aren't just for business meetings anymore. They are increasingly being used in classrooms by both teachers and students, so it makes some sense for Apple to package and price Keynote attractively for home and educational users. (Education is one of the markets where Macs sell well.)
Apple says it based Pages on the layout and graphics tools originally built for Keynote, but my experience with both programs made me wish that Apple had done a little cross-pollination the other way: Keynote's interface isn't quite as slick and easy-to-use as that of Pages.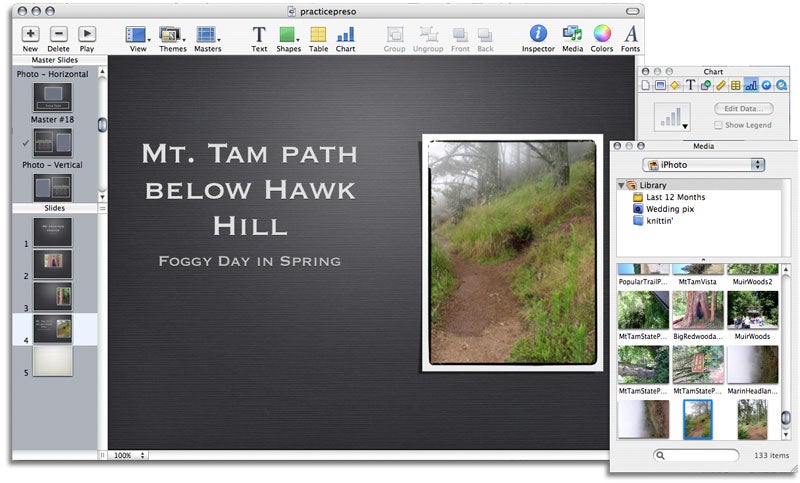 Take creating new slides, for example: I opened the Master Slides preview pane and figured I could drag the masters into the main work area or the slide navigation pane to make a new slide. But it doesn't work that way: Instead, you click the New button at the top of the window to create a blank slide, then you apply a style to it by dragging a master on top of it. That not very different from how PowerPoint works, and it doesn't seem very Mac-like.
And dummy text doesn't magically disappear from Keynote's text boxes, as it does in Pages. Also, I expected photos to automatically resize when I dragged them into an image box, as they do in Pages. PowerPoint has better controls for fixing up the graphics you place, but neither program has a simple, one-click "size-to-fit" box.
I also looked for Forward and Back arrows in Keynote's interface, for browsing from slide to slide while in editing mode, but they aren't there. You can use your keyboard's arrow keys to jump sequentially through slides, though, and there are several key commands for navigating through slide shows.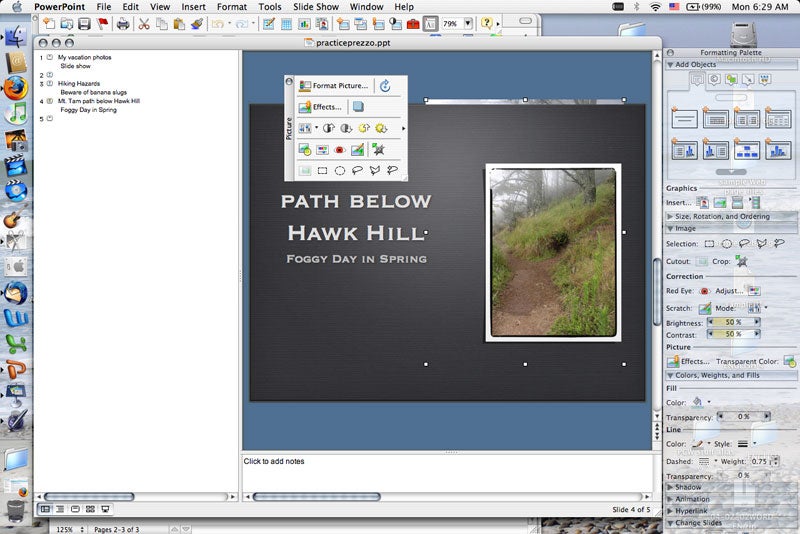 To see whether Keynote is really compatible with PowerPoint, I tried opening the same file in both programs. Keynote exports files to .ppt format; and when you open a PowerPoint file in Keynote, it converts it to a new .key (Keynote) file. The PowerPoint file I generated from Keynote was more than ten times bigger than the original: 10.4MB versus 924KB. For the most part, the slides looked fine in either program, although my graphics looked rather funky in PowerPoint--they didn't get cropped to their image boxes, they just sat on a layer underneath and were visible outside the edges of the slides. However, this was easy enough to fix.
Round-tripping a Keynote file (exporting it to PowerPoint, then reimporting into Keynote) worked fine, and nothing got garbled. But I spent a lot of time waiting for the conversion to happen on both ends. Obviously, you shouldn't do this unless you need to share files.
Suite Lite?
IWork is not a lightweight set of programs. All those templates and placeholder graphics take up a lot of space; the suite's hard-drive footprint is 794MB. And its documents take several seconds to open and save.
Those Other Apple Apps
ILife, on the other hand, is a suite. In fact, it's a jam-packed, fun-filled Swiss Army Knife that deserves its own review. I will be teaming up soon with some of my more media-savvy colleagues to bring you a comprehensive review of ILife (also $79 from Apple).
Shop Tech Products at Amazon