Net Phone Zone: Slash Your Phone Bills With BroadVoice
BroadVoice's IP phone plans are extremely attractive: Starting at $20 a month for the Unlimited World plan, you get all-you-can-eat calling to numbers within the United States, Canada, and 21 countries around the world. Those 21 countries include most western European nations (Spain, France, Belgium, Italy, Germany, Austria, Norway, and the UK, for instance), along with Australia, Chile, China, Singapore, and Taiwan. All this for $20? What a bargain!
Lingo by Primus Telecommunications serves up a comparable $20-per-month plan for unlimited calls to the U.S., Canada, and most western European countries. BroadVoice's plan is a better deal because you get more countries for your money; but the quality of the service is about the same. For more on Lingo, check out my review.
However, before BroadVoice's cheap monthly charges kick in, you face some up-front costs. When you sign up for service on the BroadVoice site, the company sends you an adapter that you connect to your broadband modem (or router) and phone handset. You're charged $15 for shipping, plus $40 to activate your service. (Read "The Hidden Costs of Cheap Phone Service" for more details about other charges you should generally expect from Voice over IP providers.)
BroadVoice, like other VoIP providers such as Vonage, lets you use your landline phone number with the service, if you decide to ditch your local phone company--as long as your area code is available. During the sign-up process, you can request your specific area code; if it's not up for grabs during signup, you can go back to BroadVoice later on when the area code is added to the master list, then switch back to your original phone number for free.
Note: BroadVoice doesn't provide emergency 911 call service, which is a serious drawback if you have no other phone service in your home or small business. The company says it hopes to make 911 service available soon, but at this writing was not able to specify a rollout date.
I tested BroadVoice's service and was impressed with the easy installation and the quality of the calls. Its telephony adapter/router combo--a small box that's about the size of two decks of cards--can be hooked up to your modem directly or to your existing router.
Setup and Service Quality
Installation took about 10 minutes. You have to power down your modem, router, and PC before connecting BroadVoice's device. After everything fired up again, I picked up my newly connected cordless phone, heard the dial tone, and promptly embarked on a calling spree. Over four dozen calls later (not at one sitting!) I was still talking happily over the Internet. Whether to numbers within the U.S. or overseas, the call quality was consistently good: I didn't encounter any choppiness or echoes. I could hear folks at the other end of the line loud and clear, and they could hear me loud and clear, and saying the same old things.
In my tests, however, I did run into one annoyance: On one occasion, three calls were unceremoniously dropped, one after the other. BroadVoice suspects that the problem originated on my end--perhaps some anomaly in either my home network or possibly the phone itself. The company says its log indicated that the BroadVoice hardware appeared to have been performing according to its specification. I'm pretty certain it wasn't the phone: The hardware is reliable; plus, as a self-confessed phone-chatterbox, I always keep my cordless phones fully charged. In any case, this didn't happen again.
The overall experience did differ slightly from that of a landline phone: With BroadVoice, it felt like there was a super-thin veil between me and my callers; it was barely noticeable, unless I was listening closely. This is typical of all VoIP services I've tested, and it's not a big deal.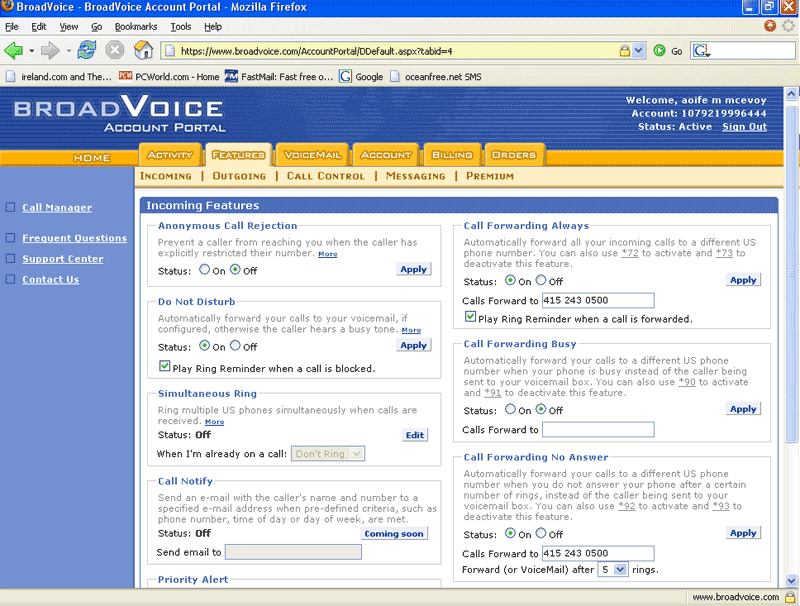 I like BroadVoice's account management features. You can log on to your account online and play your voice messages back within your browser, or you can ask BroadVoice to ping you with an e-mail and .wav attachment whenever you get a new message. The service's Account Portal logs all your incoming and outgoing calls, and lets you specify how you want to handle call forwarding and "do not disturb" settings. The BroadVoice Call Manager, which syncs with Microsoft Outlook, lets you initiate calls from your contacts list.
Plans Galore
The $20-per-month Unlimited World plan is just one of BroadVoice's many offerings. For $5 more a month, you can sign up for the Unlimited World Plus plan, which adds 14 more countries--including the Czech Republic, Finland, Israel, Japan, New Zealand, Portugal, and South Korea--to the all-you-can-eat arrangement.
For $30 a month, the Unlimited Business plan includes unlimited calling to numbers in the U.S. and Canada, and an additional two office numbers for, say, a couple of remote workers. If you want to make it easy for your customers to call you, you can add a toll-free number to your account for an extra $2 per month. This fee covers 1 hour of inbound calls; after that, you pay 2 cents a minute.
If your phone calls are primarily to numbers in the same state as your own, BroadVoice's $10-per-month Unlimited In-State plan may be the way to go. It covers all calls to numbers within a given state--but you pay 3.9 cents a minute for out-of-state calls, and more for international numbers.
If you already own a phone adapter for VoIP calls, you may be eligible for BroadVoice's Bring Your Own Device option. The fine print: You need to have an SIP-capable device, such as a Cisco, Grandstream, or Sipura adapter. (SIP stands for session initiation protocol, one of the standardized protocols that many providers support for VoIP, instant messaging, conferencing and the like.) With BYOD, you save on up-front costs: Instead of the $55 for activation and shipping, you pay a $10 activation fee to use your existing device with any of the company's plans, such as the Unlimited World or Unlimited In-State.
If these plans don't suit you, or you don't need an all-you-can eat arrangement, you can try the BYOD-Lite plan: For $6 a month, plus the same one-time $10 activation fee, you get 100 minutes of calls around the U.S; after that you pay 3.9 cents per minute. You're not docked for incoming calls. The company doesn't offer a similar plan to people who lack an adapter.
And a caveat: As with all VoIP services I've looked at, BroadVoice's monthly fee for international calling covers calls to landline numbers only; if you're calling cell phones overseas, you'll be charged a per-minute rate. For example, calls to cell phones in Italy and Spain will cost you 26 cents and 27 cents per minute respectively. For the full list of charges, check out BroadVoice's international rates.
Shop Tech Products at Amazon