Shopping Advice, Deals, and Stores
Round up the reviews: With so many reviews available online, you should never have to settle for a salesperson's word on a product. ECoustics links to professional and user reviews from dozens of Web sites. And despite the name, ECoustics goes beyond home audio, providing comprehensive coverage of video products, digital cameras, car audio, and MP3 players. However, a new Computers section, which includes cell phones, is rather sparsely populated so far.
Check store sales: Even Web addicts sometimes venture out to "real" stores. Before you go, check Sales Circular for listings of current specials on electronics at major retailers, including Best Buy, Circuit City, CompUSA, and even Kmart. Listings are organized by state and product category.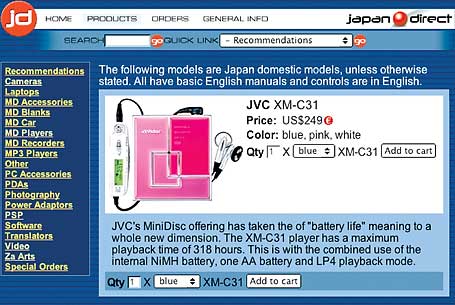 Buy Japan's finest: As any gadgethead knows, some of the coolest devices from Japan never reach U.S. stores. If you can't go to Tokyo, try Japan Direct. The site presents a selection of products such as laptops and PDAs comparable to what's available from its better-known rival, Dynamism.com. Japan Direct's offerings are even broader in some other categories, including digital cameras. Don't worry about learning Kanji; nearly every product comes with English-language software and documentation. And if you're jonesing for a gizmo that isn't listed on the site, you can special-order any gadget priced over $100.
Browse audio imports: But if you're looking for Japan-only sound gear, start with Audio Cubes. Need an Audio-Technica AT-LH15 OCC head shell for your turntable? This site has it. The selection is especially good for headphones, earphones, and portable audio, home audio, and car audio items. The site also sells (though not always at the best prices) some products you can find at other retailers. Companion site Audio Cubes II carries very high-end Japanese audio equipment.
Hit the classifieds: You'll find upscale audio gear from all over the world at Audiogon. This Web site is like the ultimate EBay for audiophiles: It features both new and used products for sale from individual members, small-time commercial sellers, and full-size dealers. You can browse, bid, and place a want ad for free. Individuals selling items pay $4 for a 30-day classified ad or a 3-to-14-day auction. For $50 per year (or $20 for 30 days), users can access the site's excellent "blue book" listing of recommended prices for used audio equipment.
Find online deals: Shopaholics unite at Tech Bargains, a PC World partner site that provides daily blurbs about online electronics deals and discounts as well as coupons and rebate offers. Are you certain you don't need a 6.1-channel receiver? Even if it's on sale right now for $239.99? Purposeful buyers can search for current specials in product categories including audio and video equipment, digital cameras, and computer gear.
Shop Tech Products at Amazon