Spyware Doctor Fails to Beat Favorites in Latest Tests
At a Glance
Sunbelt Software CounterSpy 1.0

Microsoft AntiSpyware

PC Tools Spyware Doctor 3.2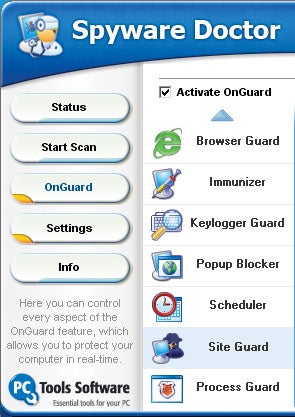 PC Tools' $30 Spyware Doctor 3.2 promises to snuff out the most elusive adware and spyware applications, so we pitted the software against the latest versions of two PC World favorites, Microsoft's free AntiSpyware and Sunbelt Software's $20 CounterSpy. Our results show that both AntiSpyware and CounterSpy remain top choices, while Spyware Doctor has promise but needs some fine-tuning.
To start off our latest round of tests, we infected a system with a newer variant of the Banker Trojan horse, a keystroke logger commonly used alongside phishing scams.
We expected our shipping version of Spyware Doctor to excel at this test, because its OnGuard feature monitors application behavior to stop this type of threat. However, Spyware Doctor failed to detect the keylogger during the infection stage, and then a system scan also missed it.
Neither the beta AntiSpyware nor the shipping CounterSpy (version 1.0.29) purport to detect such infections behaviorally, but each program ferreted out one of the Trojan horse's files. On the other hand, each failed to detect the in-memory process and the core file responsible for loading the keylogger. Evidently, all three apps have work to do in this area.
The Big Test

Using procedures we established during April's "Spyware Stoppers," we tested all three tools on a PC we had infected with 45 adware and spyware programs.
In our previous tests, Microsoft AntiSpyware detected and removed 91 percent of infectious agents. Unfortunately, the current version does not detect or remove the controversial Hotbar and WhenUSearch adware programs, which caused its overall average detection rate to drop to a still-impressive 89 percent.
For its part, CounterSpy continues to detect both Hotbar and WhenUSearch--and its detection rate in this latest round of tests increased from an 85 percent overall average to an excellent 92 percent.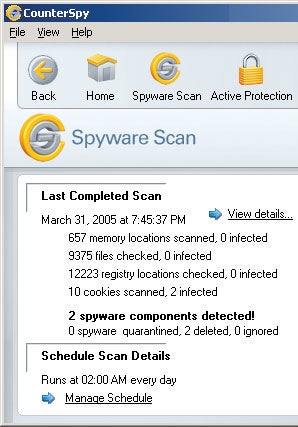 Tests of Spyware Doctor proved time consuming. First, the app consistently stopped responding when the scan reached the 23 percent mark.
After some time we narrowed the problem down to ad software from BullsEye Network; and once we used that program's own uninstaller, we were able to continue with the scan. (A few days after we contacted PC Tools about the BullsEye software glitch, the company issued a fix.)
Eventually we successfully completed a scan, and the end result was a respectable removal rate of 79 percent.
Subsequent scans with Spyware Doctor proved less troublesome, although we disliked the app's repeated attempts to access the Internet. PC Tools says the software is performing a "license code validity check" to monitor the active copies of the software.
And that is just one more reason why we recommend that you stick with either Microsoft's AntiSpyware or Sunbelt Software's Counterspy over Spyware Doctor. Though the application shows real potential, right now it isn't in the same league as these two less-expensive competitors.
At a Glance
Sunbelt Software CounterSpy 1.0

Microsoft AntiSpyware

PC Tools Spyware Doctor 3.2
Shop Tech Products at Amazon