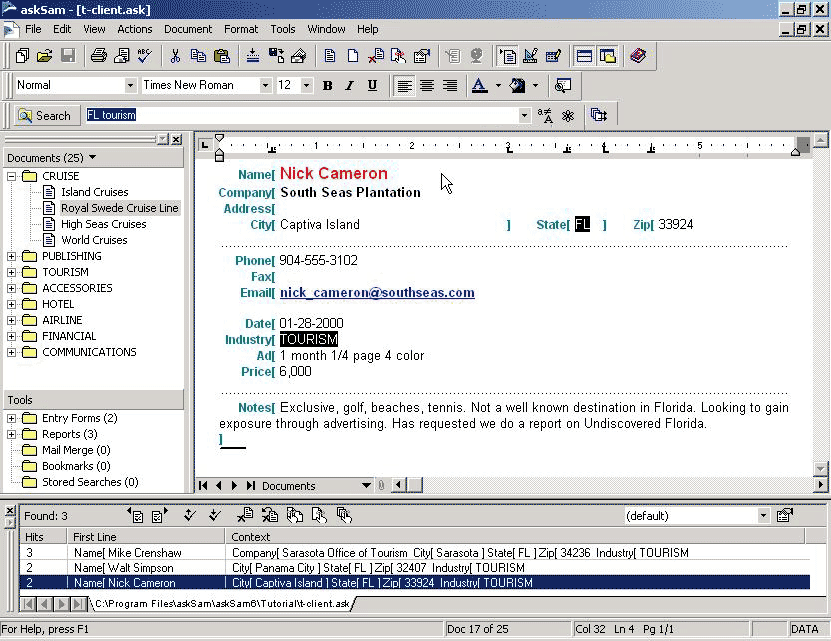 If your idea of a free-form database is an enormous Word document of names, phone numbers, and e-mail addresses, then it's time to meet AskSam. A longtime user of the venerable app, I recently tested the new version 6 and found plenty to like--although first-time users will face a slight initial learning curve.
AskSam is a sophisticated organizer that lets you drop just about anything into a database, and then easily find it later (files can hold up to 16 terabytes' worth of data). The app's free-form structure means you don't have to parse a file's contents and reenter information into traditional database fields. Instead, it imports into fully searchable fields most document formats: text files, e-mail messages, PDF files, instant messaging transcripts, and even Web pages. It also accepts numerous database files, including dBase, FoxPro, Access, Paradox, and delimited text.
I started by importing a giant Word file of names and numbers into the $395 AskSam Professional 6 shipping version I tested (the $149 Standard version lacks full text indexing, so it's not quite as speedy as Pro). The app's ability to retain the document's original appearance impressed me. My Word file remained familiar, editable, and--even better--searchable. I could also sort the results in ways that shame Word's simple search-and-find function.
Along with a new interface, version 6 adds versatile folder-management tools that let you group records by any field. Simply enter a new category into a field, and AskSam generates subfolders for each sortable field. You can view these dynamic folders from many perspectives, such as date, content, and keywords. New as well is the ability to import messages from PocoMail (joining Eudora, Netscape, Outlook, and Outlook Express).
AskSam comes with dozens of templates, including addresses, recipes, home inventory, wine lists, and movie lists. My favorite: templates that let you import, annotate, and organize Web pages. Just make sure you close the database while you merrily surf and save sites. AskSam and Internet Explorer (the only supported browser) don't share nicely, which causes IE to crash. AskSam says this problem exists only in the single-user version and will be patched.
Organizing desktops and data is an ongoing struggle for PC users. Luckily, AskSam makes it easy to search, sort, and organize info the way you want.
AskSam Systems AskSam Professional 6
This is the ultimate tool for managing and sorting all the data on your desktop.
List: $395 Professional, $149 Standard
Current prices
(if available)
www.asksam.com