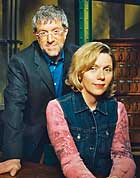 At the newsstand, in your mailbox, on the Web--there have always been multiple ways to get PC World. And now we're coming at you in a whole new medium: television. The show is PC World's Digital Duo (call it PCWD2 for short), and it began airing on public TV stations in April.
The Duo in question consists of two exceptionally opinionated, tech-savvy individuals. One of them you know: Stephen Manes, whose Full Disclosure has crankily anchored our back page for years. The other you may not, but you should: Cohost Angela Gunn first wrote about the Internet in 1989 and has covered the tech beat ever since, for outlets ranging from PC Magazine (who?) to USAToday.com.
An earlier incarnation of the program aired on public TV stations in 1999 and 2000, without any PCW connection beyond Steve Manes's presence. We're proud to be part of this new-and-improved version.
Lots of TV about computers and related matters has come and gone over the years, but PCWD2 isn't just another fluffy tech show. Like PC World, it's aimed at smart folks who want practical advice, not hype. "Everything's gone digital, and there's a need for people to try it out and tell you what you need and what's irrelevant," Steve says. "You're going to see two very personal takes on the new stuff that we think is important."
"For the most part, we're beyond being wowed," adds Angela. "So when we are wowed, you know it." One PCWD2 fave rave: Scansoft's Dragon NaturallySpeaking voice-recognition software, which Steve enthuses about on the debut show and in this issue's Full Disclosure.
PC World's Digital Duo is produced by Incandescent Entertainment; Dennis Allen is the executive producer. So far, 128 stations have agreed to air it.
Then again, the program also plays on one nationwide venue 24/7: our own Web site. Click here to see the Duo in action.
I know, I know--watching TV on the Web is often a glitchy hassle. But we've worked overtime to make the PCWD2 online experience a copasetic one.
For one thing, since almost nobody wants to watch a half-hour show on a PC, we've divvied each episode into concise chunks. And as long as you have the Flash Player installed, our clips won't send you into video player configuration hell or force you to play hopscotch between two windows. Even if you catch the show on TV, the site provides useful info such as PCW reviews, specs, and up-to-the-minute prices for products examined on each episode.
On the tube and online, "Two Analog People in a Digital World" is both the Duo's tagline and its mantra. As Steve puts it, "'Will this product really help you, or are you better off doing it the old way?' is always in the back of our minds."
For PC World, PCWD2's TV and Web editions are new ways of helping you--and we think you'll like what you see.
Subscriber Survey - Your Shot at a Huge HDTV

We're giving away a new 65-inch Optoma DLP high-definition television. For a chance at winning it, take our subscriber survey on your experiences with PCs and other tech products. You'll need your subscriber number (which is on the mailing label on the front of your magazine, and is available here) to take this online survey. The site includes the official rules, and it explains how to enter the drawing if you're not a subscriber.