All-in-One Laser MFPs That Do It All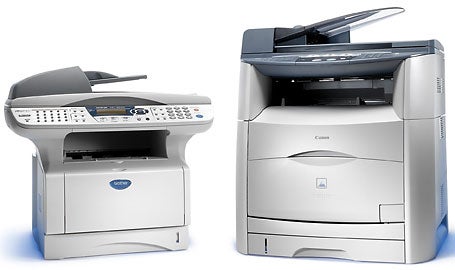 Copy, scan, fax, and print: Four separate machines could handle those needs, but why tax your budget and your desk space when one machine can do it all? Most laser multifunction printers today handle all four tasks with more flair than inkjet MFPs and with performance rivaling that of stand-alone units. A handful of laser MFPs even let you add eye-catching color to your documents.
Selecting a laser MFP can be complicated, given the number of features to use as buying criteria. Still, MFPs can be a good deal if you know what you want.
The PC World Test Center ran seven laser MFPs through their paces, testing their printing, scanning, and copying output. We also tried linking the network-ready models to our office's local-area network, which in some cases opened up a world of additional features (see "Navigating the Networking Maze").
Picking the Right MFP
Once you've settled on purchasing an MFP rather than a stand-alone product, you need to decide whether an inkjet or a laser model better suits your needs. The choice is easy if you use your printer for business. Inkjets can produce colorful documents and outstanding photos (see June's Top 10 Printers), but they simply can't match the speed and professional document quality of a laser printer. And now that color has arrived in lower-cost laser MFPs, you no longer have to sacrifice color for sharp text quality in business documents.
Nor do you have to sacrifice quality: Most of today's laser MFPs compare favorably to dedicated laser printers in speed and print quality. Monochrome laser MFPs continue to offer a good range of office-oriented features and match the performance of single-function printers. Color laser MFPs are packed with features, too, but they're often slower than their stand-alone competition.
Unfortunately, in scan quality, laser MFPs usually fall short of the mark that single-function products set. And though an MFP typically comes bundled with an automatic document feeder, you usually won't get a transparency adapter--a common accessory for ordinary scanners.
Mono: The Value Option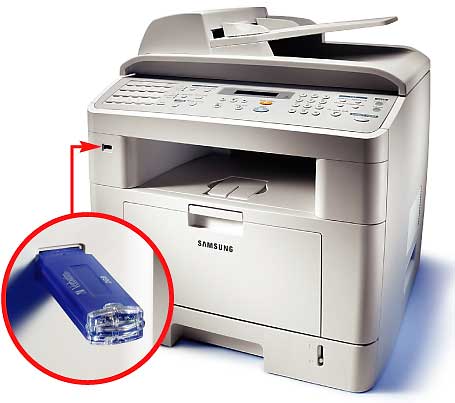 Just as with stand-alone laser printers, if you're willing to give up color, your all-in-one will give you better performance for your dollar. The monochrome laser MFPs we tested performed at about the same level as their single-function counterparts, for a cost of only a few hundred dollars more. Each of the models that we evaluated--including our Best Buy, Brother's MFC-8840DN--costs $500 or less, and can handle even a busy home or small office's daily work output.
The average monochrome text speed for the MFPs we tested was 14.5 pages per minute, versus 14.2 ppm for similarly priced stand-alone laser printers from our November 2004 roundup. The single-function lasers we examined printed grayscale graphics only slightly faster than the MFPs did, averaging 7.4 ppm versus 6.1 ppm. The MFP with the fastest text printing performance was the monochrome Samsung SCX-4720F at 16.3 ppm, followed closely by the Brother MFC-8840DN. (We first tested the Brother back in October 2004. This month we retested it so that we could include hands-on testing on a network.)
Though monochrome print speeds impressed, print image quality was more of a mixed bag. The Brother and Samsung led the way, generating clean, razor-sharp text and crisp line art. The Brother MFP excelled at printing grayscale graphics, showing smooth transitions in our test photo. The Canon ImageClass MF5750 and the HP produced middling results: Both units output generally clean text documents but had serious problems on grayscale graphics. The HP model tripped over itself on our test black-and-white photo: The printed image revealed pixelation and distinct moiré patterns.
As with text speeds, the scanning speeds of this crop of monochrome laser MFPs matched those of stand-alone scanners fairly well. (Note: All of the monochrome laser MFPs we tested can scan in color.) They scanned a sample color document in 31.4 seconds on average, compared with 35.5 seconds for stand-alone scanners. And though some monochrome MFPs outperformed the color ones, none of the all-in-ones produced scan quality up to the level of a stand-alone scanner. In fact, many of our test scans struggled with skin tones and color accuracy, and some looked dull and fuzzy.
Of the monochrome group, the Canon fared best overall on scan quality, while the compact HP LaserJet 3030 did worst, hampered by reddish, fuzzy graphics (text documents looked markedly better). The Brother unit also produced accurate colors in printouts of scanned output.
In copier mode, the monochrome units all tested within a second or two of each other, but exhibited a wide range of image quality. The Brother and the sensibly designed Canon MF5750 did best at copying; the Samsung had some issues, however, producing light, jagged lettering.
The Brother and the Samsung stand out among the monochromes for their extra features. Brother includes ScanSoft's PaperPort software and a built-in duplexer, a good deal given the printer's sub-$500 price. Samsung offers a nifty extra USB 2.0 port so you can print directly from a USB storage device such as a flash drive or hard drive. Both models also supply a plethora of fax presets--a plus for offices with a heavy load of daily faxing.
Shop Tech Products at Amazon