Yahoo Does Portable Music Downloads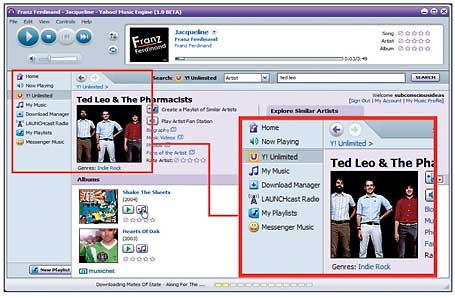 Listen to music on your PC and fill your portable music player with tunes for $7 a month: That's the promise of Yahoo Music Unlimited, which costs about half as much as competing services Napster To Go and Rhapsody To Go. I encountered my fair share of problems with the Music Unlimited beta, but this service is definitely one to watch.
Yahoo Music Unlimited boasts a library of more than a million songs available for streaming, downloading to your computer, or transferring over to a subscription-compatible portable player. Permanent downloads are available for 79 cents a track, 99 cents for nonsubscribers.
I experienced a few issues while testing the beta service. Most of the problems were minor, but I did run into one showstopper: I couldn't get subscription-based tracks to download to the IRiver H10 audio player I used to evaluate the service, despite repeated attempts. PC World encountered the same problem with Rhapsody To Go, but at least Music Unlimited is up-front about its beta status. That's refreshing. If Yahoo can get the portable subscription feature working well, and if it doesn't jack up the price, Yahoo Music Unlimited could quickly become the subscription music service to beat.
Yahoo Music Unlimited
Yahoo
Beta software, not rated
Media jukebox and subscription service should be a good one, once the bugs are worked out.
Price when reviewed: $7 per month
Shop Tech Products at Amazon