Download This: Reclaim Time and Disk Space
Seemingly simple tasks have a way of burgeoning out of control. Multiple versions of the same document clog your inbox. Off-site meetings drag you away from your desk, costing extra time for travel. And your PC's poor hard drive struggles to manage the programs and files that balloon unbeknownst to you. The following three products cut down on lost time and space, and each of them does it with either a free version or a generous free trial.
Keep Everyone on the Same Page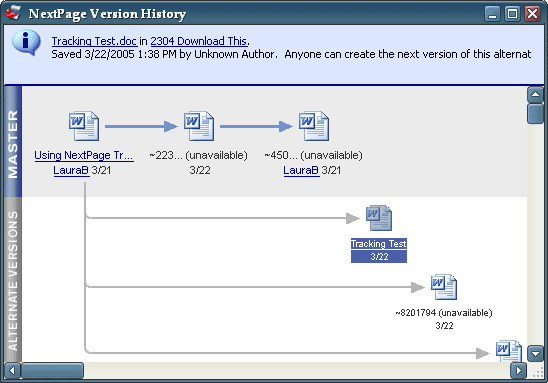 Here's a story problem: Suppose you need five different colleagues to weigh in on a document as soon as possible, so you e-mail them the same document simultaneously and ask each of them to send the latest version to the entire group. If each colleague makes their comments in their own time, working off the latest version they've seen, what's the maximum number of different documents you can end up with? Answer: More than you'd like. NextPage makes order of this chaos, and it does it from within the familiar setting of Microsoft Office applications.
NextPage (from a company called NextPage) is a service that tracks changes made in any Office XP or 2003 document. This isn't to be confused with Microsoft Word's Track Changes function; rather, it's version tracking that tells you--even from outside the file--who has worked on the document. In fact, you can use Track Changes and NextPage together.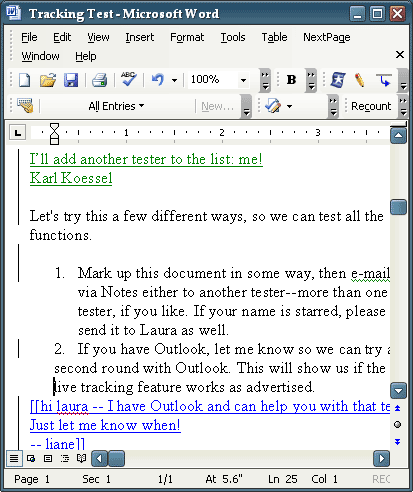 NextPage's software client inserts a toolbar in Microsoft Word, Excel, and PowerPoint documents. With this toolbar, you can begin tracking the various versions of the file. NextPage shows you who's touched which version, and which version is the most recent--even if it's been renamed. If your colleagues are using NextPage as well, the service can tell you in real time whether someone's working on your file (or whether you need to give somebody a nudge).
Once you've enabled version tracking in the document, the little red NextPage mascot shows up on your saved files in Windows Explorer as well, showing you which files NextPage is following. You can track and merge documents from the Office app's toolbar or by right-clicking the file's icon in Explorer.
You don't need to be a user to have your changes tracked, but you do need to be one to see the tracking information. The price of the service isn't insignificant: $250 per user per year after the 30-day trial runs out. But if your company has a small software budget, don't count it out: Perhaps just a few project managers actually need the program, making NextPage more affordable.
Don't Dance Around the Point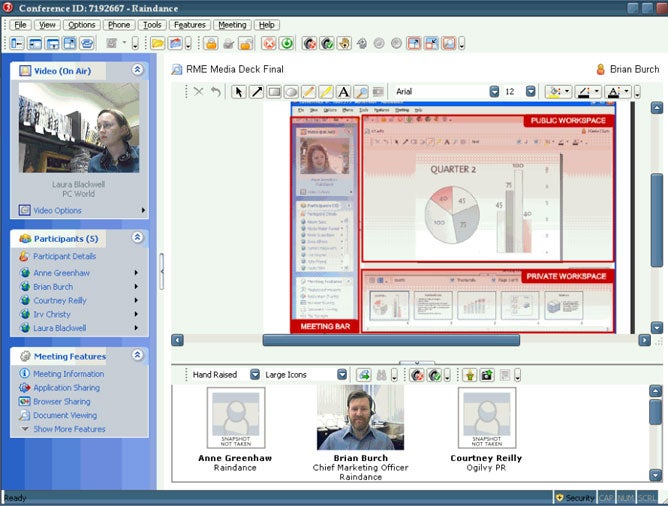 Few of us enjoy long meetings. Even fewer enjoy forking over an absurd sum of money and losing precious work (and play) time traveling to a face-to-face meeting. Teleconferences are dull and impersonal. And even I don't enjoy Web meetings--that is, I didn't until I tried Raindance Meeting Edition. This software-and-service subscription package makes long-distance meetings virtually painless.
Raindance Meeting Edition covers the usual bases of Web meetings and adds its own useful touches in a remarkably user-friendly interface. You'll find the expected elements: video conferencing, audio conferencing, instant messaging, and the ability to share and mark up files such as slide shows and documents. RME goes a step beyond the usual video conferencing with its unique Follow Talker feature, which automatically switches the camera view to the person who's speaking. To avoid a dizzying whirl of faces saying "hmm" or "uh-huh," Follow Talker kicks in only after the same voice speaks for 5 seconds.
With Follow Talker enabled, you'll never have to use instant messaging or ask a coworker to find out who's speaking. Raindance also lets you record entire meetings for later reference. The video quality doesn't touch what you get with a dedicated video conferencing service like SightSpeed, but it's better than what you see in most full-fledged meeting products such as WebEx.
The best thing about RME is its inviting interface. Presented with the software in a demo, I dived right in and started playing with the highlighters, pencils, and other tools. Mouse-overs bring up tool tips explaining what every tool can do, and users can build their own toolbars for frequently used tools. I was able to switch the views, too, looking at full contact information and photos for each participant as well as checking out more compact views.
The only hazard for meeting presenters is that if they have many attendees--and in the full paid version, a meeting can have up to 125 participants--they might find a profusion of doodles growing on their documents and slides. It's a good thing that the presenter can cut off a participant's mark-up access when necessary.
Raindance Meeting Edition comes in two flavors. If you're planning to use it for one-on-one meetings only, the free version will suffice. For larger meetings, check out the 14-day trial of the full-license version. It's not cheap ($100 per month per reassignable seat, plus 30 cents a minute for audio conferencing) but neither are plane tickets--or your time.
Lack of Disk Space Driving You Up a Tree?
You think you've got a lot on your mind? Consider the burden your PC's hard disk bears. Programs and files bloat to epic proportions, often in ways invisible to the unassisted eye. Back in his August 2004 Windows Tips, PC World's Scott Dunn found a way to solve this problem: JAM Software's TreeSize shows you not only which files are biggest, but also how much space is wasted in each one. With this information, you'll know which files to compress for maximum space savings--and you might even find some dusty old files that you can remove entirely.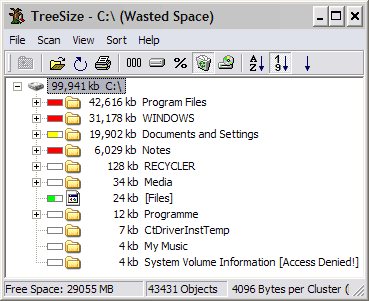 TreeSize's free version displays files by size, wasted space, byte allocation, or percent of total space drive. In this case, "wasted space" doesn't mean unflattering photos from your last office party, but the amount of space in clusters that aren't completely full. Most likely, some files have grown to surprising girth. You can sort alphabetically or by size, and you can print out your findings for record keeping or leisurely perusal.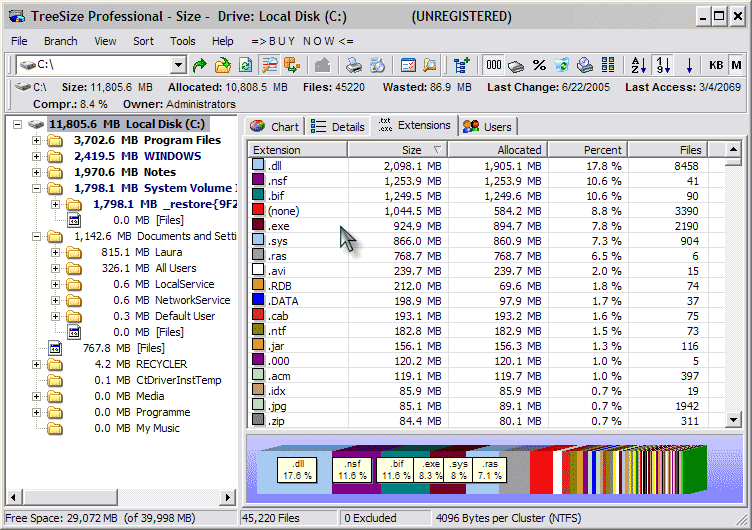 In TreeSize Professional, pie and bar charts make it easier to understand the landscape of your hard drive. You can sort by extension to see how much wasted space--and how much space, period--your PC devotes to each file type. From the File Search screen, you can locate files that have parameters you specify: all files over a certain size, all files unused for two years, or all Internet files, for example. Once you've registered the program, check boxes next to files let you move them (into a different disk or partition, perhaps) or delete them.
JAM Software allows individuals to use TreeSize for free, with all of its features intact, provided you send e-mail or a postcard to the program's author, Joachim Marder. (He's in Germany, so if you send a postcard, make it a nice one he probably hasn't seen.) Businesses are required to use TreeSize Professional rather than the free version; power users who want to work with the more powerful version are welcome to do so. JAM offers a 21-day free trial for TreeSize Professional, but unlocking the last of the features requires a $40 registration fee.
Shop Tech Products at Amazon