At a Glance
Lenovo Thinkpad X41 Tablet PC

Motion Computing LE1600 Tablet PC (1.5GHz Pentium M 758, 512MB, 30GB, Windows XP Tablet PC, 12.1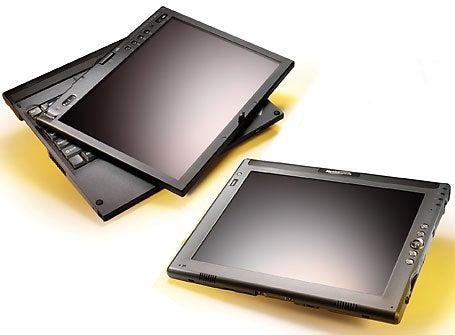 Good news for ThinkPad fans: You can now have your notebook and your tablet PC, too. Lenovo's $2059 ThinkPad X41 Tablet, the company's first portable based on Windows XP Tablet PC Edition, is a svelte convertible that fully lives up to ThinkPad's proud design heritage. The X41 and Motion Computing's new $2439 LE1600 Tablet PC are among the first tablets to use Intel's latest mobile technology to stay slim without sacrificing much performance.
The two tablets are similar in many ways. Both carry Intel's 1.5-GHz Pentium M LV 758 processor, one of the centerpieces of Intel's next-generation mobile platform, code-named Sonoma; both run Windows XP Tablet PC Edition 2005, the latest version of the tablet operating system; and both have fingerprint scanners with biometric security software and 12.1-inch active-matrix LCD digitizer screens. Each model also features built-in 802.11g Wi-Fi and a full complement of connectors (two USB 2.0 ports, ethernet and phone jacks, and SD and PC Card slots).
Beyond these similarities, Motion Computing's preproduction LE1600 Tablet PC edged out our shipping ThinkPad X41 Tablet in most respects. However, the ThinkPad left the LE1600 in the dust in our battery life tests: It ran for a solid 5 hours, 1 minute, considerably outdoing the LE1600's time of 3 hours, 3 minutes. (Our tests were performed without the optional extended-life batteries.)
Tablets With Speed
Our LE1600 shipped with 768MB of RAM and a 60GB hard disk, compared with the ThinkPad's 512MB of memory and 40GB hard drive. The LE1600's extra RAM might have helped it squeeze by the ThinkPad in our WorldBench 5 test suite: The LE1600 Tablet PC earned a score of 60, while the ThinkPad X41 Tablet scored 58--a difference you probably wouldn't detect in most business applications.
The design of the Pentium M LV 758 processor contributes mightily to these tablets' lower travel weight. In this regard, Motion goes further than does Lenovo: The LE1600 boasts an impressive travel weight (including AC adapter) of just 3.2 pounds, compared with 4.2 pounds for the ThinkPad. (But paired with its optional, $170 convertible keyboard, the LE1600 matches the ThinkPad's weight.)
Portable Commonalities
The ThinkPad X41 Tablet is in many respects similar to the standard, nontablet ThinkPad X41, and can use the same extended battery and docking station. As with most ThinkPads, the keyboard is a joy to type on--responsive and firm. Swiveling and locking down the display to turn the notebook into a slate was exceptionally easy, although the X41's sloping profile in tablet mode (it's thicker at the hinge than at the edge) occasionally made the machine disconcerting to hold. I also liked the easy-to-use fingerprint scanner software; after a couple of false starts due to inept finger swipes, I enrolled my right index finger and thumb in a matter of minutes.
The LE1600 Tablet PC, meanwhile, is slightly lighter and thinner than Motion's previous corporate-focused slates. A welcome new option is the aforementioned convertible keyboard, a compact all-in-one peripheral that includes a minidock and charging station, and lets you prop up your tablet when typing. Also new: hot-swappable dual batteries, including an exceptionally skinny lithium polymer extended battery (a $230 option); a DVI-D port for connecting to digital displays; and the ability to switch between two of the three built-in microphones, depending on whether the unit is in landscape or portrait mode.
Motion's updated Dashboard utility provides quick access to critical settings such as display orientation, sound volume, and Wi-Fi security. The LE1600's beefed-up Security Center links to all features related to security, including Microsoft's own Security Center, an Infineon Trusted Platform Module (a security hardware and software combo aimed at ultra-security-focused enterprise customers), and Motion's OmniPass password application and Fingerprint Reader.
At $2059--including an auxiliary eight-cell battery but not including a $199 USB 2.0 CD-RW and DVD-ROM combo drive--the ThinkPad X41 Tablet is within $160 of a comparably configured conventional ThinkPad X41 notebook. Motion Computing's tablet is a more expensive proposition: As configured, our $2439 LE1600 doesn't include a keyboard, desktop stand/docking station ($260), or USB 2.0 CD-RW and DVD-ROM combo drive ($200).
Security-conscious corporate and individual users may be willing to pay top dollar for the LE1600 Tablet PC's security extras and light weight. The more affordable ThinkPad X41 Tablet, however, is far more likely to make at least some mainstream users revisit the tablet option.
LE1600 Tablet PC
Motion Computing
Preproduction model, not rated
Exceptionally lightweight tablet's heavy-duty security features and accessories hit the mark for well-heeled corporate travelers.
Price when reviewed: $2439
Current prices
(if available)
ThinkPad X41 Tablet
Lenovo
ThinkPad takes the Tablet PC plunge in style, providing great battery life without a significant price premium.
Price when reviewed: $2059
Current prices
(if available)
At a Glance
Lenovo Thinkpad X41 Tablet PC

Motion Computing LE1600 Tablet PC (1.5GHz Pentium M 758, 512MB, 30GB, Windows XP Tablet PC, 12.1
Shop Tech Products at Amazon