In the Charts: AMD Turion-Based Notebook Breaks Into the Top 15
This month, our feature story "Next-Generation PCs" preempts our regular Top 15 Desktop PCs chart, so we start the Top 100 section with our Top 15 Notebook PCs chart. Two new Acer portables gain rankings. The bright red Acer Ferrari 4000 is the first Top 100 notebook we have seen that uses a Turion processor, AMD's answer to Intel's Centrino CPU.
Taking fifth place in the all-purpose notebook category, this race-car--themed portable carries AMD's 1.8-GHz Turion 64 ML-34 processor, the lower-power and lower-voltage variant of the two Turion chips currently available. It performed on a par with a Lenovo ThinkPad T43 model equipped with a 1.86-GHz Pentium M 750 processor. Battery life, however, was mediocre. For more about the Turion chip and the Ferrari 4000, see "Turion-Based Notebooks Target Intel's Centrino" and our online test report and capsule review for the Ferrari 4000.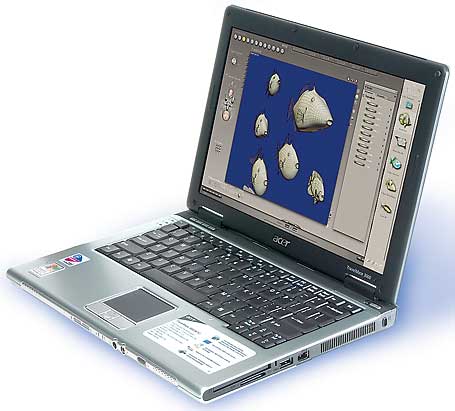 The other chart newcomer, Acer's TravelMate 3000, captured the fifth spot in our ultraportable section. It is the only thin-and-light here to come standard with a pair of interchangeable batteries--a three-cell that lasted almost 2 hours in our tests and a heavier six-cell that endured twice as long. The TravelMate 3000 suffers from a so-so keyboard, and (like most ultraportables) it lacks an integrated optical drive.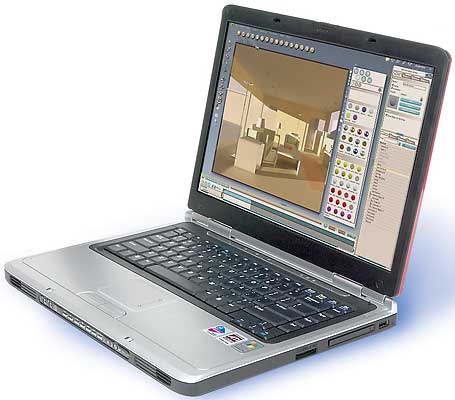 The other four notebooks tested this month fell short. Chem USA's $1069 ChemBook 2071 couldn't unseat its $1769 sibling, the ChemBook 2070, in the all-purpose category. Despite having the same media control buttons, the 2071 is a slower model with a smaller hard drive and less memory. Our test unit had a troublesome optical drive tray, too. Otherwise, the 2071 is a good, low-budget multimedia laptop.
We were disappointed with Dell's Inspiron 9300, an entertainment-oriented 17-inch wide screen that the vendor bills online as a "multimedia powerhouse." Though our expensive test model came with Windows Media Center, the TV tuner (with remote) is a $160 external USB add-on. Also discouraging: The 9300 earned a WorldBench 5 score of 83, below average for similarly configured notebooks that have 1GB of RAM and a 2-GHz Pentium M CPU.
Fujitsu's LifeBook B6110D is an ultraportable with an appealing touch screen and long battery life but no integrated optical drive. Finally, Toshiba's Tecra M4-S515 tablet PC, with its swiveling 14.1-inch screen, serves nicely as either a laptop or a sizable tablet, but our test unit's touchpad did not reliably select text.
Inside Info
Point-and-Shoots: Camera vendors are packing higher and higher resolutions into point-and-shoots. This month's Top 10 Digital Cameras chart features two 7-megapixel models priced at under $500 and one 5.1-megapixel camera at less than $300. In all, three new models make the chart.
More on the Web:PC World uses its industry-standard benchmarking application, WorldBench 5, to evaluate desktop PCs, notebooks, and tablet PCs. We run a number of real-world applications performing real-world computing tasks. You can go here for more details regarding PC World's Star Ratings.
The Top 100 Team:Freelance writers Richard Jantz and Paul Jasper, PC World Contributing Editor Carla Thornton, and PC World editors Laura Blackwell, Eric Butterfield, Tracey Capen, Kalpana Ettenson, Tom Mainelli, Melissa J. Perenson, Narasu Rebbapragada, Dan Sommer, and Alan Stafford contributed to the Top 100 section this month. Ulrike Diehlmann, Elliott Kirschling, Jeff Kuta, Tony K. Leung, Thomas Luong, and William Wang of the PC World Test Center tested the products reviewed in this issue, with logistical support provided by Greg Adler.
Shop Tech Products at Amazon