First Look: Google Grabs Space on Your Desktop
Version 2 of the Google Desktop tool (formerly named Google Desktop Search) adds so many new features that finding local files almost seems like an afterthought. Topping the list of enhancements in this free program (still in beta) is the Sidebar, a new way to view content from both the Web and your PC. All it asks for in return is a big chunk of screen real estate.
The Sidebar sits on the left or right side of your screen, displaying your e-mail, recently viewed Web pages and files, local weather, news headlines, and RSS feeds, among other information. If you don't have the desktop area to spare, you can place the search box in your taskbar or float it on the desktop as you could with the first release of the program. (You can toggle between the Sidebar and Taskbar views with two clicks.) The Sidebar occupies a significant amount of space, but it didn't take me long to get used to having all sorts of information just a click or two away.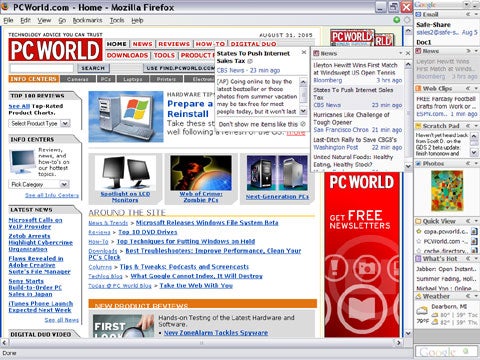 By default, the Sidebar includes panels labeled E-Mail, News, Photos (from a folder on your PC or a Web site of your choosing), Quick View (a list of files you open frequently and Web pages you've recently visited), Scratch Pad (a note taker that allows you to type or paste text into it), Stocks, Weather, Web Clips (for viewing RSS feeds and updates from your favorite Web sites), and What's Hot (a list of the most popular topics among all Web users).
You can choose which panels to display using the Options dialog box. The information displayed in the various panels is based on your past searches and opened files, but most of it is customizable, allowing you to specify the data sources--though you can't change the source in the News panel, unfortunately.
If you'd like to add additional panels, you can do so by visiting Google Desktop's plug-ins page to view others. Selections include the Time Warp clock, System Monitor for tracking your PC's CPU and other resources, GdTunes for your iTunes music software, and plug-ins for WordPerfect, Access, and other specialty files.
Simple Searches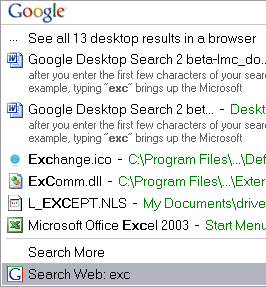 Google Desktop is still a search program, and the new release offers the same fast and accurate file searches as the original. Making searches even quicker is the new Quick Find type-ahead feature, which begins retrieving files--and application shortcuts--after you enter the first few characters of your search term. For example, typing "exc" brings up the Microsoft Excel shortcut from your Start menu, as well as other files containing words beginning with those letters. Just click the result to open the application.
Another nice feature in version 2: Restricting the program's file indexing to specific folders is now much easier. In the initial release, you had to enter manually each folder you wanted to exclude from indexing. In version 2 you can specify the drives and folders to index, as well as those to skip (such as backup folders or archives of old files you know you'll never search).
You can index password-protected Microsoft Word and Excel documents, an option that is turned off by default; but one default index option you may want to change is 'Secure pages (HTTPS) in Web history', which is checked automatically. Leaving this option checked allows cached versions of your past online banking sessions and other sensitive data you've entered into a Web form to show up in your search results.
The new version lets you index network drives, external drives (including data CDs and DVDs), and Google's own Gmail e-mail. (Keep in mind that any network files that you open, save, or create on your PC will subsequently appear in the program's index.) As in the previous version, there are no advanced search options, though you can use the standard Google search operators (the minus sign to exclude a word and quotes to search for a phrase, for example). The program doesn't allow partial-word or wild-card (asterisk) searches, however, and it searches e-mail attachments only if they have been saved to your local drives.
Causes for Concern
The privacy concerns that plagued the original version of Google Desktop may persist, because you still can't change the location of the program's index. This could allow virus writers to point their invaders right at this storehouse of personal data. If your hard drive is formatted as NTFS, you can encrypt the folder via the program's Preferences window, but Google claims that doing so "will reduce performance." You can--and should--make the program more secure by opting out of its Advanced Features, which send information about your Web-browsing history and "non-personal usage information" to Google.
Another default setting that I found disconcerting is the option to view local-file search results at the top of Google's Web search results, a feature that existed in the earlier version. You can hide these results with a single click, but to permanently keep your local files and cached Web pages out of your Web search results you have to uncheck this option under 'Google Integration' in the Preferences window.
Google Desktop serves as a kind of safety net for deleted files: If you opened the file recently, a cached version will persist in the program's index. You will likely be able to recover a lost file by searching for it by name and then clicking the cached link underneath its listing in the results. Conversely, you can click Remove Items, check the items you want to delete, and select Remove checked results to keep the files out of your future results (in the initial release of the program, the files could return after you reopened them).
Setting aside any unresolved security concerns, Google Desktop 2 gets you that much closer to the information you need, whether the information resides on the Web or somewhere in the hidden recesses of your PC.
Google Desktop 2
Beta software, not rated
The new Sidebar view and better control over indexing make this a big step up from the initial release, but security remains a concern.
Free
desktop.google.com
Shop Tech Products at Amazon