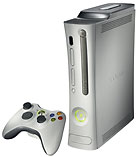 TOKYO -- Microsoft will launch its Xbox 360 games console on November 22 in the U.S., the company announced here on Thursday.
The much-anticipated game console will then be released in Europe on December 2 and in Japan on December 10, said Yoshihiro Maruyama, executive officer and general manager of the Xbox division of Microsoft's Japanese branch. The company called a news conference to announce the product launch details and preview the company's activities at the Tokyo Game Show, which begins on Friday.
Gamers got their first look at the Xbox 360 at the Electronic Entertainment Expo in Los Angeles in May.
Pricing, Specs
The Xbox 360 will launch in two versions in the U.S. and European markets: a basic version for $300 and a premium edition for $400. It will be available in Japan in one version only, which will cost $343.
Powering the console is a custom three-core IBM Power PC chip and an ATI Technologies graphics chip. It has a 12X dual-layer DVD-ROM drive and the premium edition includes a 20GB hard drive, wireless controller, headset, ethernet cable, and wireless remote control.
The Japanese version will be almost equivalent to the premium edition. It will include the console and several accessories, including a 20GB hard disk drive, wireless controller, and wireless remote control. A limited-edition launch package will also include a headset, Maruyama said.
"We have a very strong broadband infrastructure in Japan compared to other countries," said Maruyama, in response to a question about why the hard drive is a standard item in Japanese versions. "There are various online contents on offer and these require a hard-disk."
Compared to the offerings for the U.S. and Europe, the Xbox 360 package launching in Japan appears to be something of a bargain. It's unlikely that happened by chance. Of all the markets where it will launch the Xbox 360, Microsoft probably faces its toughest marketing battle in Japan.
Sales of the current version of the Xbox have dived in Japan, and the company has struggled to find credibility for the console among gamers. Microsoft has been working hard to turn that image around by recruiting big-name game developers to write exclusive content, and is already talking to retailers about launch plans.
Competitive Efforts
A few of the exclusive titles under development for Xbox include "N3 Ninety Nine Nights," by Tetsuya Mizuguchi of Q Entertainment and "Every Party" by Yoshiki Okamoto of Game Republic. Developer Hironobu Sakaguchi is also working on a game for the console.
"For Xbox, Japan really is a key, important market in the global strategy that we have," said Maruyama. "We have a very strong commitment to succeed."
For all the preparation, the console won't do well unless Japanese gamers take an interest and a campaign designed to assure that kicks off Friday. The public will get their first chance this weekend to see and try out Xbox 360 games at the Tokyo Game Show. Microsoft plans to have 27 games on display at the event.
Microsoft had previewed a few other Xbox 360 games earlier this summer. Those included Bizarre Creations' "Project Gotham Racing 3," Namco's "Frame City Killer" and Capcom's "Dead Rising," as well as a number of sports games, many of them with multiuser elements.
Nearer to the launch, an "Xbox lounge" will open in the fashionable Aoyama district of Tokyo where people will be able to try out the new console, Maruyama said.