Google Talk: It's a Start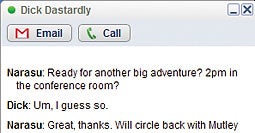 Google Talk--the new instant messaging service and software--offers no-frills text and voice chats for free. It's adequate at what it does, but as yet that's not much.
For the full Google Talk experience, you will need a Gmail account and the downloadable client software. At press time, there were no emoticons, no file transfers, and no Mac client. Mac users will have to go through iChat. In fact, you can use any IM client that supports the open Jabber/XMPP protocols for instant messaging. I easily set up Google Talk using both iChat and Trillian Pro 3.1.
The best word to describe the Google Talk interface is austere. Its white window can display all Gmail contacts or just the ones for Google Talk users. Hovering over a name will reveal whether that person is online or offline. If you are conducting several chats at once, you can collapse the various panes into a stack of title bars to save screen space.
Using a Sony headset and microphone, I conducted a number of voice chats that sounded clear and produced no distinguishable lag. Voice chat is supported solely through the Google Talk client, though, and the only way you can call is PC to PC. The service lacks voice mail, conference calling, and audio-chat recording capabilities. But Google says that it is currently working with Sipphone and EarthLink to extend VoIP capabilities across service providers.
Although I like Google Talk, I don't need it. My friends use AIM and ICQ, so Trillian and iChat serve me just fine. But when I know more Gmailers, or when Google adds extra features, I might look again.
Narasu Rebbapragada
Google Talk
Google
Good at basic text and voice chat, but offers few extras.
Free
At a Glance
Pros

Uncluttered, ad-free interface
Shop Tech Products at Amazon